DIY
The best angular grinders
Angle Grinder – Buying Guide, Opinions and Analysis
Whether for cutting, sanding or cutting, the uses of an angle grinder are multiple, as long as we make a good purchase. For that, it is necessary to look for products with ample power, with which to be able to do all kinds of work, and an interchangeable disc system with which to always choose what we need for each project. The favorite model of consumers at the moment is the Bosch GWS 7-125 Professional model that has a power of 720 watts at 11,000 revolutions per minute and an easy disc change system with which you can carry out any job comfortably and without just effort. Also attractive is the Tacklife P9AG125 model, a piece of equipment ergonomically designed to be handled firmly in any DIY project. It has some spare discs and also a practical case to store or transport it.
Buying Guide – What is the best angle grinder on the market?
The angle grinder is a versatile tool that makes all kinds of cutting, sanding or grinding work on any type of material easier. To equip yourself properly, follow the advice in our guide to buying the best angle grinder, with which you will find quality models that give that touch you are looking for in all your DIY jobs.
operating power
When choosing an angle grinder, the operating power is one of the elements that we must take into account to avoid falling short when doing any job. A power that, as we will see when talking about the disc, it is necessary to adapt to the tasks that we are going to carry out, so that the product has enough capacity to carry out the same efficiently.
If we take a look at any comparison of angle grinders on the market, we can see how the power is usually around 700 watts approximately, within the general models with a 115-millimeter disc. This power is enough to generate a rotation level of about 11,000 revolutions per minute, with which to move the disc properly and obtain adequate performance when working. However, as with power, this speed has small variations in terms of the maximum idle speed that can be achieved with the product.
It is convenient that this speed can be easily adjusted, since not all materials or tasks require the same power. If we are talking about more fragile materials or more precise work, it is important that the speed is adjusted downwards, to avoid their deterioration during the work. That is why it is convenient to assess the speed control system, which should have the greatest possible versatility.
Disc Features
If the operating power of the product is important, so is the disk that is moved by the motor. Depending on the type of work you are going to do, you will have to use another disc, also having different sizes and thicknesses, which are also adjusted to these jobs. You should know that if the grinder mounts a large disc, you can mount smaller discs, but not the other way around.
Specifically, the most common grinders are usually 115mm in diameter, being practical and light for carrying out small jobs. Discs that are effective in cutting and roughing material, although their cutting capacity is between 20 and 30 mm, which means that they lose efficiency with thick materials. In this case, we can bet on models with 230mm discs. These discs allow you to work with thicker materials and be more efficient when working on large materials.
In addition to the above, it is also necessary to assess the way in which the discs are changed. A task that must be simple, so that it is not necessary to pull many tools or spend too much time in the change process. A fundamental issue to avoid inconveniences during the process and also maintain proper safety in the work process, which must even be above how much the grinder costs.
comfort and safety
To finish our tips for finding a good and cheap angle grinder, we will review both the comfort of use of the product, and the safety it offers us when working. Two fundamental elements in any power tool, but even more so when it comes to cutting and sanding tools like the ones we are discussing.
On the comfort side, it is worth taking a look at the handles or fastening elements of the product. In general, these models have a main support handle together with a secondary handle, which allows the position of the cutting area to be maintained and helps to better control the process. If, in addition, the product has improvements such as a vibration reduction system or similar, everything is easier to use.
As for the safety of the product, it is key that the product includes a protection shield that prevents possible sanding or cutting debris from jumping in our faces. In this security there must also be a mechanism that stops the operation of the disk automatically in case of problems, to avoid risk when working due to an operation of the disk without complications.
The 5 Best Angle Grinders – Opinions 2022
For those of us who love to do all kinds of home repairs with our own hands, an angle grinder is the perfect tool when it comes to precisely cutting, polishing and grinding wood, metal and all kinds of robust materials. If you are looking for an angle grinder, pay attention to this small selection that we have made very carefully with the aim that you can buy the best angle grinder in its value for money.
1. Bosch Professional 0601388102 Grinder
Main advantage:
It is a model of angle grinders that complies with proper operation, this as the opinion in which its buyers agree the most. It is a light device, which has a start-up according to the demands of its buyers, in addition to its light weight and easy handling.
Main disadvantage:
Its customers point out that this model overheats after a certain time of operation, which could slow down the domestic tasks that are carried out at home. In such a way that it becomes imperative to stop the work and wait for it to return to a suitable temperature to use it again.
Verdict: 9.8/10
Thanks to its functionality, this is one of the best value for money grinders, as it meets the characteristics that users need and its acquisition does not represent an excessive expense.
Materials
It is a model that has an aluminum casing, which guarantees durability over time, in addition to ensuring that its coating will not suffer greatly from bumps or scratches that could be made when handling it or taking it somewhere.
It has specially designed intake vents that give you the ability to properly cool your engine. In other words, there will be no overheating due to its use, but rather the product itself is well manufactured to resist the temperatures it reaches.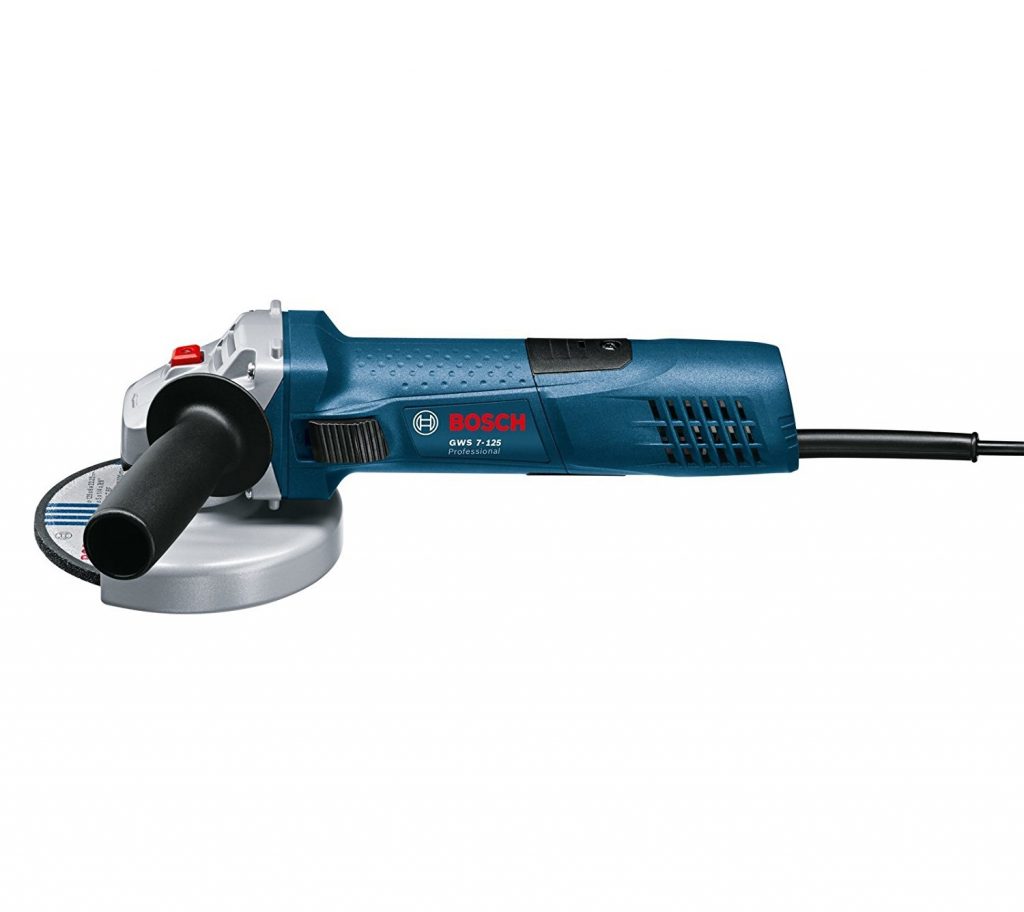 Power
The Bosch GWS 7-125 Professional model has a nominal power of 720 watts and an empty speed of 11,000 revolutions per minute, this means that its power to work on any surface will be satisfactory and efficient. Even for working on metal surfaces, this angle grinder will be able to get the job done with expected results.
It has a 125mm disc, coupled with a 115mm diameter light rubber plate that allows it to perform quality work on available surfaces. Now DIY work or improvement of surfaces at home will be a simple and satisfying task, very much in line with our main needs.
Security
The Bosch GWS 7-125 Professional angle grinder has carbons that serve for auto-off, to stop the motor correctly once the trigger is released. This implies that we are not going to cut ourselves, nor will the surface on which we work be damaged, in addition to making its usability more intuitive and simple.
In addition, it has a special button, suitable for unlocking the blade in just one step, without the need to incorporate more tools for it, which will make the work that is being carried out easier. It has a safety cover against torsion, giving more protection to the user who handles it.
2. Tacklife Angle Grinder 900W 125mm Tool
Tacklife P9AG125 is the name corresponding to an angle grinder with which you can do various jobs at home or in your workshop.
This tool can be used for sanding, polishing and cutting, so it can be considered multifunctional. It has a 900W motor and is capable of reaching 12,000 RPM, providing effective performance on various types of materials.
As for its handling, it is compact in size to increase its ergonomics and offers protection accessories that will take care of forming a blockage between your hands and the grinder blades.
In addition to this, it should be noted that the equipment case has a design designed to increase the quality of ventilation, so as to avoid overheating of the components and the accumulation of dust in the internal corners of the grinder.
Next, we invite you to know some of the relevant aspects regarding the angle grinder offered by the Tacklife brand, to determine if it is worth purchasing:
Pros
Discs: With the purchase of this model you will get a pair of interchangeable discs that you can use with your angle grinder when you need to replace the current one.
Cover: The presence of a protective cover will minimize the risk of accidents when using the tool.
Ventilation: It offers a design focused on ventilation, to prevent the accumulation of dust and wood debris, helping to extend the useful life of the equipment.
Bag: A large size transport bag is included, where you can store or carry the equipment, in case you need it.
Cons
Applications: The design and capacity of this grinder make it suitable mainly for simple jobs, since it does not have the necessary power for professional applications.
3. Hitachi G13SR4 Mini Grinder 125mm 730W
We could consider this second product as one of the best angle grinders of 2022. It is the Hitachi G13SR3, which has 730 W of power and a speed of 10,000 rpm.
It has a 12.5 cm diameter disc, retention spindle with M14 thread and gear with head, so that you can work in great detail in the corners or narrow spaces of the material. Its sliding switch located on the side of the tool allows it to be locked for greater user safety.
The Hitachi G13SR3 weighs just 1.4kg and has an overall length of 25.4cm, making it one of the most compact and lightest grinders yet offering a modern design. It has a high performance motor that has carbon brushes to prolong its useful life.
As if that were not enough, this angle grinder offers accessories, among which a side auxiliary handle stands out, which is interchangeable in two positions with 15 degrees of inclination, and a tool to change the disc.
Excellence is a characteristic that attracts anyone and this product has been cataloged as the best angle grinder of the moment, due to the characteristics that we will discuss below, and the opinion of customers.
Pros
Power: Its motor offers a powerful maximum power of 950 W, enough to obtain a more than remarkable performance on almost all surfaces, including metal.
Handle: It comes with a side handle to facilitate its handling, as well as a special key to be able to make the necessary adjustments when a change of parts is required.
Weight: One of the most commented features of this grinder is its weight of only 1.4 kg, which is great for comfortable use and without generating too much fatigue in the user.
Head: The head is flat design to facilitate work in corners and narrow spaces, without the need to attach accessories to do so.
Warranty: The brand offers an extendable warranty of up to 3 years, just by registering the product after purchasing it on its website.
4. Einhell TE-AG 115 Angle Grinder 720W
Although this figure is not in the first place among the best angle grinders of 2022. The Einhell TE-AG 115 angle grinder is considered by many users as a high-quality tool that meets the expectations of experts in repairs such as cutting, sanding and roughing., not only at home but in professional workshops.
It has a wheel guard that can be very easily adapted to any task because it has a quick adjustment mechanism that does not require tools, while the spindle lock allows you to change tools quickly.
The Einhell TE-AG 115 angle grinder is designed to provide a low level of vibration thanks to its gear head made of flat metal that guarantees optimal force transmission during operation.
It is also one of the most comfortable thanks to its thin casing that makes it light. It also offers a non-slip grip, both on the main handle and on the auxiliary handle.
When doubt continues to assail you and you still don't know which angle grinder to buy, we invite you to review the advantages and disadvantages that this model offers to see if it fits your needs and budget.
Pros
Power: It offers 720 W power that will be ideal for working with almost all surfaces and materials on which to use this grinder.
Disc guard: This mechanism can be adjusted with just a button and without the need for tools, so it will make maintenance a very simple task.
Head: It incorporates a flat type gear head to ensure a better transmission of the motor force, as well as reduce its vibration.
Characteristics: Unlike the other competitors, it comes with its respective cutting disc, a pin wrench that is stored inside the auxiliary handle, the latter with the possibility of adjusting to three different positions.
Cons
Case: Several users claim that the lack of a factory case to store it in is its biggest drawback.
5. Mannesmann M 1216-EWS One-Hand Angle Grinder
We could not fail to mention a great tool in a mini size, which is among the best cheap grinders on the market today. We refer to the model M 1216-EWS of the German brand Brüder Mannesmann.
This mini angle grinder is designed for occasional jobs with not very hard materials. It has a 500 W power motor and a 115 mm diameter disc that is suitable for polishing and polishing metals, as well as sharpening cutting tools or cutting ceramics.
It is capable of cutting up to 11.5 mm thick. It is necessary to clarify that it is not a grinder to be used in workshops for hours, it has a low-power motor, so it is advisable to use it intermittently in short periods of time, otherwise it can overheat, thus reducing its useful life.
The Brüder Mannesmann M 1216-EWS has an additional handle that can be screwed to the right or left of the tool depending on the user's taste and need. It also has an adjustable disc guard that protects from the usual sparks. It also has a safety slide switch and proper spindle lock for accessory changes.
If you are looking for an option that is highly affordable and performs well, Brüder's tool stands out among the cheapest. Learn about its features below to see if you decide on it.
Pros
Power: It has a maximum power of 500 W, which ensures good performance on a variety of materials.
Protector: The blade protector is adjustable in several positions, to prevent chips from flying violently directly at the user.
Handle: It has a handle on one side that allows the user a more comfortable and safe handling of the tool and that can be removed if desired.
Price: Users praise that the price is one of the key attractions of this product, as it is highly accessible for a tool of its kind.
Cons
Overheating: Customers claim that during the use of the machine, it overheats on some occasions, making it uncomfortable to use.
Bosch Professional 0601388102 Grinder
This is considered by many users as the best angle grinder of 2022, not only because of its brand, which already speaks of the quality of the product, but also because it offers everything that only other more expensive grinders can offer.
The Bosch GWS 7-125 is a professional angle grinder with a nominal power of 720 W, and no-load speed of 11,000 rpm, so it has great performance on any material.
The diameter of the disc is 125 mm and it has a light rubber plate of 115 mm in diameter. In addition, it weighs less than 2 kilograms, so it is quite portable and you can work with it for long periods without getting too tired.
Its casing is made of aluminum, very resistant to impacts and scratches, which guarantees the long useful life of this product. It also has self-disconnecting carbons and specially designed ventilation inlets that allow optimal cooling that ultimately protects the engine.
The Bosch GWS 7-125 Professional grinder provides a high degree of user protection. It has a protective cover with twist lock.
When you are looking for a good price-performance ratio, we would like to recommend the best angle grinder for 50 euros on the market. Read the advantages it offers below.
Pros
Power: It offers a nominal power of 720 W, enough to work even with metals without any problem. Also, it has an idle speed of 11,000 rpm.
Security: It incorporates self-disconnecting carbons that will stop the motor immediately after releasing the trigger for greater security.
Easy change: It has a special button that allows you to unlock the blade in a single step, without the need for tools and that will be much more comfortable for you.
Durability: It is made with a highly durable aluminum casing to withstand the corresponding use, as well as offering lightness.
Weight: At just 1.9kg, this is one of the lightest grinders on the market, and one that allows for fantastic maneuverability.
How to use an angle grinder
Whether in a specialized workshop or at home, with a single tool you can do endless jobs if used properly. Within the market there are numerous tools that stand out for their versatility and practicality, such as angle grinders with which you can cut, sand, clean, sharpen and do many other jobs.
What accessories can you use?
The versatility that characterizes angle grinders is due to the fact that you can adapt a good number of accessories to them that allow you to carry out various tasks with the same tool by simply exchanging the discs according to your needs.
The discs that you can put on it are the cutting discs that you can use to section sheets, beams and any other similar material. With diamond grinding discs you can refine materials such as concrete and stone. Abrasive and sanding discs will help you remove residue adhering to surfaces from surfaces. With the sheet ones you can do a similar job, since they sand and smooth surfaces easily and with the polishing discs you can shine them. There is a disc for each specific task that you are going to carry out.
Cut or grind
To carry out cutting or grinding work, you must start with using the appropriate disc for it on the angle grinder. In this case it would be the cutting disc. Next, you must make sure that the material you are going to section is stable, that it does not move.
For this type of work, you should ideally use a workbench to help you firmly hold what you are going to cut. Turn on the grinder making sure to hold it firmly. Bring it closer to what you are going to cut. Skim the surface with the disc and press gently while cutting.
sharpen the blades
When the blades you use at home lose their sharpness, their practicality goes with it. With an angle grinder you can easily bring the edge back. To do this, put the blade in a vise or holding system that keeps it very secure. Put on the sharpening disc and turn on the machine. Next, carefully pass the disk gently skimming the edge of the blade at an angle between 25 and 35 degrees.
use it safely
An angle grinder is a power machine whose motor rotates at high revolutions per second, which is capable of causing damage; especially when you have some kind of disk mounted. That is why it is very important that you use it following all the security measures corresponding to the case.
In principle, preferably, when you are using it, there should be no one else nearby, unless you require the help of another person. In that case both of you should be careful when the grinder is turned on. You should also use some safety implements such as glasses to prevent metal residues from entering your eyes, face masks, gloves, and safety boots. The clothes you work in should not be baggy. When you are not using the grinder, disconnect it from the electrical outlet and put the protector on the discs.
The most popular brands
When you are in the world of construction or working in some type of industrial area, it is essential to have an angle grinder at hand, since they serve to ensure that the delivery of each project has an unparalleled finish. There are few companies that make this type of durable and quality instruments, so users have certified three companies that meet the requirements they have demanded, and which are described below.
Its operations have been active for more than 50 years in more than 40 countries, providing solutions for merchants and artisans to work in all types of environments: whether at home or at work. Many tasks have been executed thanks to this brand, with stationary machines and power tools with great power.
Its headquarters are located in Germany, specifically in Landau an der Isar. Today it brings together a total of 1,320 workers worldwide and its earnings are close to 486 million euros per year. All users are impressed by the product collections that are constantly innovating and very good value for money, making their motto "Einhell well done" famous.
Its vision in the elaboration of products is based on the gift of transforming faster and with more flexibility and innovation than the competition, satisfying the needs of each consumer through specialized stores, recognized worldwide. Thus, the user can contact a technician to help him find the article he needs, request the repair of an instrument that has suffered mishaps or activate the guarantee in case of manufacturing defects, because Einhell provides an exclusive customer service, paying attention to cases in a personalized way.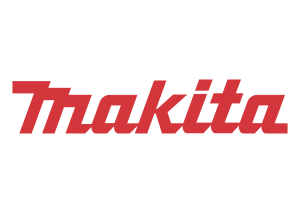 It was founded in 1915 as a company that only repaired and sold electric motors. It is currently a very popular brand in more than 40 countries, with 10 plants operating in 8 countries, working in the manufacturing area with the best raw material in its class.
Its manufacture has been controlled by several international standards, being investigated its quality, durability and the development of each process, resulting evaluated as a trusted brand for professionals or inexperienced people. The instruments they manufacture are compact, low in vibration and more manageable in the hands of their drivers.
Its central office is in California, in the United States, from where extensive chains of operations are managed throughout the American territory. Buford, Georgia is home to 10 assembly and manufacturing plants, the source of the Makita items that make up its extensive global network. Each human team is made up of professionals and workers ranging from engineers to contractors, who guarantee the development of the most advanced technologies and applications on demand.

The first Precision Mechanics and Electrical Engineering Workshop was opened by Robert Bosch in 1886. What began as a simple tool repair business has gradually become one of the oldest multinationals in history, but also one of the bigger.
Its primary goal is to provide a service to those who need it, improving their quality of life, focusing on the manufacture of industrial and automotive technical equipment. Each patent is built with the protection of the environment in mind and making a responsible and respectful use of all raw materials that nature provides. In this way, they offer household appliances with a high level of energy efficiency and with more financial savings for each client.
Its progress has been so great that it is currently linked to other brands that encompass areas other than industry to help people in their daily work. In the case of grinders, these are characterized by having a high power level, resistant manufacturing materials and ease of handling, managing to offer a competitive product due to its manufacturing quality.
Frequently asked questions
Q1: How to cut wood with an angle grinder?
Cutting wood with a grinder is not an easy process. However, if you want to do it, the correct thing to do is to wear protective glasses for the eyes and a safety mask. There are even those who suggest the use of gloves.
It is necessary to be careful in each of the cuts and to verify that the wood does not have pieces of inserted materials, so that the grinder disc does not collide with them or jam the equipment.
Therefore, after wearing the clothing, the next thing to do is to adjust the cutting disc and activate the protection of this in the grinder. When the good condition of the wood has been verified, the grinder should be turned on and the cut needed should be made carefully.
When it is finished, it should be turned off and wait a bit and then remove the disk. If it is a model with a current cable, then it will be necessary to disconnect it for greater user safety.
Q2: How to use the angle grinder for sanding?
A grinder is a piece of equipment with which you can sand, but it is necessary to adapt an accessory that is usually a rubber base and, in turn, must be used with a special sandpaper, so that there is a firm base that prevents to break as a result of revolutions. These sandpapers have different textures for professional finishes.
To start, the piece must be fixed with clamps and the grinder must be passed with both hands and the necessary protection, because the action will generate a dust that can end up in the eyes and mouth.
During the passes, it is not necessary to generate pressure, just hold the grinder safely with both hands on the piece and support it gently, since it will be the disc that will be in charge of polishing.
Q3: How to cut ceramic with an angle grinder?
With grinders, the cuts are usually clean and professional, as they are tools that are used to divide various materials. However, everything will depend on the disk that is used. The most recommended for the case of ceramics is to use a double diamond disc. The technique is the same as for wood cuts, as are the safety recommendations. The ceramic or porcelain tile must be on a stable surface and the grinder must be passed in the desired direction for the cut.
Q4: How do you take apart an angle grinder?
Disassembling the parts of the grinder mechanics can be a complex task that could even damage the work equipment, so it is recommended to leave this to the professionals.
However, the head can be disassembled to fit new disks. For this, it is only necessary that the device is disconnected and release the disc lock, and then carefully remove the disc from the support.
Q5: How to make a bracket for angle grinder?
Cutting freehand with the angle grinder can lead to a less than perfect end product that doesn't match the rest of the pieces, so it's a good idea to have a support. These pieces can be purchased, but can also be made independently if you have blacksmithing skills.
This is because it will be necessary to make a metal structure that will support the weight of the angle grinder, so it is necessary to take the measurements of the device, create a sketch and weld the parts until a base is obtained on which the angle grinder can be placed. equipment, and then place it on a rail on the work table.
» Review information from previous years
Black & Decker KG701-QS Amoladora angular
Cuando hablamos de esta marca conocemos la calidad de los productos electrodomésticos y herramientas que fabrica para el hogar. Por esta