Multitool – Buying Guide, Opinions and Analysis
Among the most notable benefits of having a multi-tool is the fact that you do not have to buy separate parts or tools to complete different tasks. So, as a first step in choosing one, ask yourself if it includes the tools you use most regularly, what level of handling and portability it has, and how it works. Users position the DeWalt DWE315KT-QS model in first place in this category because it is a great set of tools with a series of elements that are very useful in different tasks, which come in a robust case that will be of great help to store and carry. the pieces from one place to another if you so require. On the other hand, the Bosch PMF 250 CES modelIt offers a power of 250 W to perform up to 20,000 rpm, which provides better performance, in addition, it incorporates the AutoClic system to change the accessory easily and quickly.
Buying Guide – What is the best multi-tool on the market?
As its name suggests, the multitool is a versatile piece with which we can carry out all kinds of jobs effectively and in different areas, depending on its design. A product with different applications and modalities, which, if you select it according to the advice in our guide to buying the best Multi-tool on the market, you will surely get the most out of it.
Operating power and applications
When we decide to buy a multi-tool, it is important that we first carry out a task of delimiting the specific needs we have. After all, it is not the same to have a Dremel-type multitool for small cutting or marquetry sanding jobs, than the models with a greater scope of operation and that we can use in a general way.
This choice will make a difference regarding the power that the product offers us. In the case of multi-tools designed for small tasks or, rather, very small in terms of scope, this process really requires an adjusted power that does not go beyond approximately 100 or 150 watts. In this case, it is advisable to have a power regulator, so that we do not overload those weaker materials.
If what we have is a multi-tool of greater depth, for more general tasks, this power is increased to approximately 300 watts, which does not reach the level of a conventional cutter or sander, but at least it does preserve the versatility of these products to avoid problems. Without forgetting the downward difference of how much this type of product costs compared to its "big brother".
Accessories included
Another of the elements that make the difference in terms of the utility and specific capabilities of a multi-tool are the included accessories. An offer that varies according to the type of machine that we are evaluating but, as always, the more complete it is, the more functions the product will offer us when carrying out all kinds of jobs and tasks.
In the case of machines for small tasks, this offer of accessories is really complete, so that it is easy to do practically anything. Among these accessories we find cutting discs, sanding elements, drilling elements and many others, so that you do not need practically anything else. A complete offer with which you really do not need to buy anything else.
If we talk about more powerful multi-tools, for more general uses, in this case the range of accessories is reduced, being the usual thing to have elements for sanding, cutting and little else. A more adjusted offer that is compensated by having a more effective design that allows working with larger and thicker materials. Still, it's not hard to find a good, affordable multi-tool in this segment that covers your basic needs without any fuss.
Product comfort and safety
To close this guide, it is time to talk about the comfort of use and the security that the product offers us during it. Two important aspects that are often left out when making a comparison of multi-tools and that at least we do not want to leave out.
On the comfort side, for example, much of it has to do with weight and the specific design of the product. These two elements must be well balanced, so that the multi-tool, its main body to be exact, is light and has a slim design that facilitates its use. If the product also incorporates specific elements that improve the product's grip, it will be much easier to use it comfortably, as well as having greater precision when performing any task.
Regarding safety, we have already commented on the need to have a speed regulator, which adjusts the speed to prevent the product from accelerating excessively.
It is also necessary to have a good separation between the cutting or sanding area and the fastening, which avoids problems during use. The same happens with the assembly system for parts and accessories, which must also be simple and safe, so that they are not projected or come loose in the middle of work.
The 5 Best Multitools – Opinions 2022
When one needs a reliable and multipurpose tool, there is no other choice but to look for the best options available. That is why here we present the most suitable that we have found.
1. DeWalt DWE315KT-QS 300W Oscillating Multi-Tool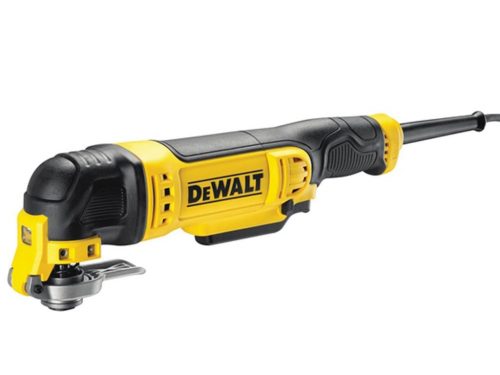 Main advantage:
The main advantage of the DeWalt DWE315KT-QS multitool is that, thanks to its design, it has quick adjustment and change of parts, facilitating the work you want to do, since they have 37 types of tools in a single article.
Main disadvantage:
The only disadvantage found for this multitool is that when you lose the original parts it can cost a bit to replace them with one that is compatible, but by visiting several sales you will be able to find some that adapt, in addition to the fact that thanks to its integrated box you will be able to store each one of the items without losing them.
Verdict: 9.8/10
With a single tool you can perform multiple daily tasks and to do so it is important that you have at hand the most recommended multitool by our buyers, which is why the DeWalt DWE315KT-QS is the best option when looking for ease, speed of work and perfect finishes, in addition to having extensive advantages and characteristics that position it at the top of our list.
Power
With a power of 300 watts and a weight of only 1. 5 kilos, the DeWalt DWE315KT-QS is the ideal multi-tool to have in your home or vehicle, so you can solve any unforeseen problem by simply taking it out of its box and using it. since it is really fast when executing a task.
Design
With an original design, the DeWalt DWE315KT-QS is made with resistant elements between plastic and metal, which guarantees a long life of use. Bring 37 interchangeable parts so you can perform almost any type of home and mechanical tasks. It is very fast and adapts to the user's needs.
These pieces can be stored in a TSTAK case that is included with the multitool for the buyer's convenience, which is also made of resistant materials and also has multiple compartments for easy use and cleaning.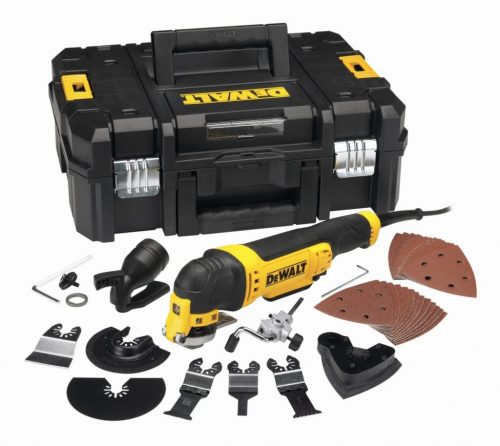 You can easily take it with you anywhere since, due to its comfortable size, you can carry it by hand or simply place it in the trunk of the car and thus move along with the tool to carry out your work.
It has a super powerful LED light that allows you to carry out work with precision by lighting surfaces or places that are not lit where tasks are being done.
When using it, thanks to its speed trigger, you can vary the intensity you want to apply depending on the work you are doing. It allows a rotation speed of up to 2,000 revolutions per minute and its noise when turned on is only 97 dB, which is not very uncomfortable to the ear.
Among some of the accessories that it includes are the sanding plate, universal adapter, adapter for dust extraction, as well as a cutting guide so that it comes out totally straight.
This tool for DIY, makes your finishes in each of the tasks that you have planned to do to improve your home or workplace, almost professional and of good quality.
2. Bosch Multitool PMF 250 CES 250 W universal set
It is a multi-tool that can be adapted to work on various types of materials, since it has a speed selection system and incorporates a powerful 250 W motor. It also offers a no-load speed range of 15,000 to 20,000 rpm, which provides good performance.
Therefore, it can be used in a wide range of applications, whether for cutting, sanding or milling. For greater practicality, it allows a change of accessories without tools and in a few seconds, since it offers the Autoclick system, which only requires pressing the lever to eject the tool used.
As if that were not enough, it has a storage box that allows you to store the machine and its respective accessories, such as the different saw blades, a sanding sheet, a sanding plate, a depth stop, among others.
If you are wondering which is the best multi -tool of the moment, it is appropriate that you take into account the most outstanding pros and cons of this Bosch device.
Pros
Versatility: Includes a host of accessories that allow you to cut, sand, saw, scrape, route and polish on wood, plastic, metal, plaster, mortar and grout surfaces.
Change: It has the practical Autoclick system, which allows the accessory to be changed easily by simply pressing the lever at the top to release the piece.
Speed: It can reach from 15,000 to 20,000 rpm, in addition, it incorporates an adjustable system to select the speed.
Cons
Cable: The power cable may be a bit short for some tasks, since its length is 2.5 m. However, you can also use an extension.
3. Skil F0151470AA Multitool 200W
If you want to keep up with the latest tool trends, check out a strong contender for the best multi-tool of 2022 spot: the Skil 1470. A powerful compact multi-tool that packs 200W of power to excel at all the tasks you throw at it. put; sanding, sawing or cutting.
It has a speed pre-selection system that will allow you to better focus all the force that the motor can develop. It also comes with some accessories so you can start working without wasting time, such as: sanding sheets, segment saw blade, plunge saw blade for wood, among others.
Among its innovations is the ability to cut or file corners without affecting other surfaces and efficiently, so you won't have to use other tools to accomplish these tasks. Another attraction is its compatibility with Bosch accessories, if you have any saved, it will be welcome.
So that you make your purchase based on a budget, it is convenient that you know the pros and cons of this model, which for many clients is the best multi-tool for 50 euros.
Pros
Adjustable: It offers a speed regulation system, so it is possible to adjust it, according to the type of accessory you are using.
Change: The change of accessories can be done easily, because it has a simple mechanism that allows you to have more speed when doing it.
Aspiration: It has an adapter for a suction device, which helps you clear the work area, thus preserving visibility and comfort during the day.
Power: It has a high level of power that reaches 200 W, so that it offers adequate performance in any of the tasks you are doing with the device.
Cable: In order to maintain a good degree of mobility when using this device, you have a 3-meter cable, so you can move around the work area without problems.
4. Dremel 3000 5 Multitool, 130W
When we are not sure which multi-tool to buy because they are all too big for us, there are compact alternatives such as the Dremel 3000 5 model. This tool has a tighter reach, but maintains the power of its older brothers to work reliably.
The result is a machine with which it is possible to efficiently carve, engrave, mill, cut, sand or polish. Something that has a lot to do with both the 130 watts of power that the equipment deploys and the quality of its motor, which supports continued use without risk of breakdown. So no matter how intense the work you plan to give the machine.
As if all this were not enough, the machine incorporates the EZ Twist system, with which it is easy to change the different pieces of the tip without the need to use keys or other additional elements for this purpose.
If you prefer precision when working, then you have a very interesting proposal in this multi-tool.
Pros
Power : Its 130 watts of power give the multi-tool all the strength it needs to carry out different jobs with confidence.
Handle : The handle is a good size and, thanks to the length of the shaft, you will have no problem accessing the most complex areas of your projects.
Assembly system : The different accessories are assembled with the EZ Twist system, which does not require a tool and saves you time during the process.
Cons
Accessories: The range of accessories included is not as wide as that of other models that we have seen on the market, although you can always buy what you need.
Body : The body is somewhat more cumbersome than would be desirable, considering that the product is designed to work in short-range tasks.
5. Black & Decker MT300KA-QS 300W Oscillating Multi-Tool
If you are still not convinced by the different tools we have reviewed and the question "What is the best power multi-tool?" continues to haunt your head, we invite you to take a look at the characteristics of the Black&Decker MT300KA.
It has one of the most versatile functions on the market: changing the position of the saw blade without the need for any tool, which will allow you to adapt the tool to different hard-to-reach surfaces without much effort. It is equipped with a 300 W motor with the possibility of regulating the power.
In addition, it comes with a universal accessory adapter that allows you to attach those of other brands, which can represent significant savings. The purchase of this device includes its case to store it together with the accessories, making your life easier.
Choosing which multitool to buy is less complicated than you think. To help you, we will show you the positive aspects and the points against this model that is also recognized by users.
Pros
Power: With its 300 W of power, it provides adequate performance in all the tasks in which it is used, without the need to make a large investment in other devices.
Keyless: The change of accessories is executed through a mechanism that does not require keys, so you can do it in less time compared to other devices.
Ergonomics: It offers a good level of ergonomics, so you can handle the device comfortably for as long as you want, counting accurately at all times.
Adapter: If you worry about having parts or accessories from other brands, you should know that it includes a universal adapter that allows you to install accessories from any model.
Cons
Heating: Some users mention that the device can get hot, so they recommend wearing gloves. However, this will depend on how long the device has been in continuous use.
How to use a multitool
In the mid-1970s, multitools emerged on the market, which are nothing more than a set of multiple accessories in one piece, given the need that people had to have different tools that would allow them to solve problems easily and without complications the inconveniences that could arise while they were at home or when they were traveling somewhere.
Multitools can be of multiple models and it is important that you make good use of them, that is why we explain how you should use some of them.
Keychain multitools
Some of these multitools have a design similar to Swiss knives, because they have several accessories of a small size in one piece that will help you to carry out different jobs; others are more similar to a key and when you open them you can see the different elements.
Their main advantage is that they can be moved anywhere easily and without many complications. To use them, it is necessary to open the part and use the tool you require, depending on the work you are going to do.
pocket multitool
They are similar to the keychain ones, but they are larger in size while still being compact and easy to carry wherever you go. The variety of tools that these have depends on the manufacturers brand, some of the elements that they can have are scissors, screwdrivers of various types, bottle openers, knives and pliers.
The way to use it depends on the model and the way to store them, in general it will be enough to select the part to use and save those that are not to avoid inconveniences.
belt multitool
They are larger than the pocket ones, therefore it is possible to use them to carry out tasks that require a higher level of demand. They tend to have full-size pieces and are also easily portable so you have them close at hand when needed. They combine several pieces in a single instrument, for that reason when using them it is necessary to take into account the type of work that is going to be carried out after choosing the accessory.
Medium
The different accessories of the multitools are usually stored in the support that contains them. Depending on the type of model used, these have other uses. For that reason it is necessary to keep them in the best possible condition. In addition, this will prevent them from deteriorating.
In the case of pocket and key rings, they recommend applying neutral oil every so often to guarantee good mobility. With the belt ones, these supports are used to put the pieces and sometimes they are electric and guarantee a good operation.
Materials for its elaboration
The different models are made of different types of materials, although in general they are a combination of plastic parts with tools made of metal, whose purpose is to guarantee their durability and resistance so that you can do different jobs without damaging them.
Among the accessories that usually include screwdrivers of various shapes, pliers, drill bits, cutting discs, polishing pads, replaceable brushes, scissors, pliers and other pieces that will also be useful in an emergency.
Variations
From the mid-1970s to the present, a wide variety of multi-tool models have come onto the market that not only serve to perform various tasks, but can also be used on specific occasions.
There are manual multitools, which can be used easily, and others are electric. Therefore they work with current or batteries and guarantee the possibility of carrying out a more efficient work. There are also survival models, hammer models, card models, while others are bicycle models.
The most popular brands
Certainly, the offer of the Multitool is increasingly wide, for this reason we present the most sought-after renowned brands in the market for a better option when choosing the product, according to what users recommend: Bosch, Dremel and Leatherman.

In 1886, Robert Bosch founded a workshop for precision mechanics and electrical engineering in Stuttgart. This was the worldwide birth of what is now the operating company Robert Bosch GmbH. From the beginning, the history of the company has been characterized by its innovative strength and social commitment. The Bosch Group is a leading global provider of technology and services, and is divided into four business sectors, mobility solutions, industrial technology, consumer goods, and energy technology and construction.
The products and services of the Bosch brand are manufactured to improve the quality of life, offering innovative and beneficial solutions for its users. In addition to the Bosch brand, the Bosch Group offers other brands that are tailored to individual customer needs.
Being a brand noted for its practicality, Bosch combines a wide range of functions in a single appliance. Thanks to all this diversity of innovation that Bosch has given us for almost 130 years, its products have been identified with quality, technical perfection and total reliability. Hence, it always tops the recommendation lists for any of the product categories it offers.

Dremel is an American power tool brand best known for its rotary tools. Dremel brand products are similar to the pneumatic and die grinders used in the metalworking industry of tool and mold makers. The tools were originally developed by Albert J. Dremel, who founded the Dremel Company in 1932 in Racine, Wisconsin.
The concept is based on high speed equipment manufacturing as opposed to conventional electric drill, for example, by inserting an appropriate bit the tool can drill, grind, sharpen, cut, clean, polish, sand, make the routing, carving and engraving of a bicycle.
Since AJ Dremel invented its first rotary tool more than 80 years ago, the company has worked hard every day to bring users more durable and innovative rotary tools, accessories and accessories. Over the years Dremel rotary tools have become the gold standard for versatility, performance and quality by which all other rotary tools for bicycles and other types of equipment are judged.

Leatherman Tool Group, is an American company located in Portland, Oregon, the company was founded in the year 1983 by Timothy S. Leatherman and Steve Berliner, in order to commercialize their idea of ​​a portable chain cutter hand tool equipped with multiple functions..
Thirty years later they are still going strong in the US, making the famous multi-tools and knives that can take just about anything and use again the next day. Although Timothy is now retired, his spirit of ingenuity, innovation and quality craftsmanship still lives on in all of his workers. These all-rounders are built for the toughest jobs, they are known all over the world for their high quality and efficiency, and anyone can buy any of them at a great price.
Each tool has specific characteristics that make it a unique tool. Leatherman has developed each one of the tools to meet the highest quality standards in order to optimize your enjoyment and comfort while you work, always offering variety in devices with or without battery.
» Review information from previous years
Estos productos solían encontrarse entre los más recomendados, pero ahora ya no están disponibles
Bosch PMF 190 E Set
Si te preocupa dejar mucho dinero sin obtener calidad, no busques más: una de las mejores multiherramientas Bosch, en la relación calidad-precio es la PMF 190 E. Esta herramienta es definida como una "todoterreno" porque tiene la capacidad de cubrir numerosas funciones de otras herramientas y acceder a "lugares difíciles" con sólo cambiar el accesorio removible.
Posee una buena potencia de 190 W, que se pueden ajustar con el sistema de pre-selección de velocidad, para poder usarla eficientemente en las tareas de corte, lijado o pulido.
Además de ligera, posee un mecanismo de cambio rápido de accesorios que no necesita ninguna herramienta, facilitando su uso y evitando tener que dejar de usarla por falta de esta.
Para complementar la multiherramienta, viene con un estuche práctico para guardarla junto a la variedad de accesorios que vienen de fábrica con ella: topes de profundidad, lijas, espátulas, entre otras más.
A continuación te mostramos los pros y contras de la Bosch PMF 190 E Set, un modelo reconocido como exponente de la mejor marca de multiherramientas.
Pros
Potencia: Sus 190 W de potencia, hacen que pueda ejecutarse de forma correcta en diferentes labores, ya que gracias a sus accesorios es un aparato muy versátil.
Rapidez: Al momento de cambiar de accesorio durante una misma jornada, podrás hacerlo sin mayores problemas, porque tiene un mecanismo de tornillo universal, que permite hacer esto con rapidez.
Velocidad: La velocidad del aparato es variable, a fin de que selecciones la que se corresponda con el tipo de tarea y material con el que estés trabajando.
Almacenamiento: Para que puedas gestionar el almacenamiento adecuado del aparato, se incluye un maletín donde podrás guardar cada accesorio y así extender su período de vida útil.
Contras
Cable: Algunos compradores cuestionan la longitud del cable de alimentación eléctrica, pero esto puede variar de una persona a otra y no limita el buen funcionamiento del aparato.
Tacklife PMT01B Multiherramienta oscilante 12V
Esta es una multiherramienta de que cuenta con 3 funciones básicas, por ejemplo raspado, con la cual podrás quitar el material o residuos, serrado, para cortar madera y realizar tus trabajos de carpintería en menor tiempo, así como lijado, que sirve para rejuvenecer los muebles.
En otro orden de ideas, posee un portabrocas, este se puede utilizar muy fácilmente, para desmontar o montar un accesorio sin utilizar llaves o herramientas adicionales. De igual forma, mencionamos que tiene una batería potente de 2 Ah, con una larga vida útil, de este modo la usarás durante mucho tiempo.
Además, no posee cable de alimentación, es decir, es una multiherramienta eléctrica, lo que facilita utilizarla, pues a veces los aparatos de cables traen estos muy cortos y requieren de una extensión, que puede ser incómoda si te estás moviendo de un lugar a otro.
Es una de las multiherramientas más destacadas, así que te invitamos a revisar varias de sus características, pues tal vez sea el producto que necesitas.
Pros
Accesorios: Entre los accesorios mencionamos a la cuchilla de raspador, una base de papel de lija, una hoja para cortar madera o plástico, entre otros.
Luces: Cuenta con luz LED blanca, de este modo podrás realizar trabajos en lugares oscuros sin ningún problema.
Velocidades: Tiene 6 velocidades que podrás ajustar de acuerdo con el material que estés utilizando, así terminarás en menos tiempo tus proyectos de bricolaje.
Contras
Ruido: Esta multiherramienta hace un poco de ruido, por lo que te recomendamos utilizar tapones mientras está encendida.
Recoge-polvo: El depósito recoge-polvo podría tener una mejor sujeción, pues se sale debido a las vibraciones de la máquina.
» Revisa la información de años anteriores