Workbench – Buying Guide, Opinions and Analysis
Working on a stable base is key in any DIY task, both for your own safety and to obtain excellent results with the comfort you deserve. Obviously it is not the same to do this in your workshop than on the move, so when you are looking for a workbench, look for the model with the exact measurements and characteristics of the work to be carried out. As a featured model we find the favorite of consumers, the Bosch PWB 600 mobile bench. This bench offers a light weight and a compact design that once opened offers a surface of 68 x 55 centimeters with a support of up to 200 kilos of weight. If what you need is something more stable and spacious for your workshop, you can bet on the TecTake 400915 model.. This fixed workbench is entirely made of high quality wood with a surface of about 120 x 50 centimeters, full of spaces, drawers and everything you need to work safely and comfortably.
Buying Guide – What is the best workbench on the market?
When DIY is your thing, the first thing you should look for is a surface where you can work comfortably and safely. If you are not sure what you should look for, our guide to buying the best workbench on the market will be of great help, since we collect the most important elements to guide your decision. Follow these tips and you will get the most out of your investment with a perfect complement for your work.
folding or fixed
Given the wide variety of models on the market, any comparison of workbenches must distinguish between fixed or folding models.
Fixed models usually offer a much larger work and storage surface, as well as being usually more stable when in use. But of course you will not be able to move them from where you place them. Folding models are suitable if you don't have much room to work or if you're going to be frequently working in different places.
These models are usually light, take up little space even when folded, and although they do not have storage space, they do offer a work surface of reasonable size. By the way, if you are wondering if there is a difference between how much a folding model costs compared to a fixed one, the truth is that there is not much difference.
Materials
As with your tools, materials make a difference when choosing a workbench. In the market you can find some model at a suspiciously cheap price, but generally it is not worth it precisely because of the low quality of its materials.
Since it is an element that must last a long time, it is advisable to bet on higher quality options, even if it is at a somewhat higher price. At this point you should look at the metals, which should preferably be made of high-quality steel with resistant rivets, as well as the planks that are part of the bottom, shelves and surfaces.
All metal should be stainless, while wood should be solid or at least high-quality MDF. This wood must also have a treatment that supports both the wear and tear of use and the pressure corresponding to the work carried out.
Storage
If the idea is to have a fixed bench, storage is essential, in order to always have your tools organized and at hand. In this regard, the fixed bench must have a top board equipped with hooks and pendants where you can place your tools as you like. They should also include at least one large drawer or two half-width drawers (from the work table) where you can store other items.
On the other hand, it is also convenient to have holes or supports in the bench where you can hang the tools that you are using at the moment, both for the fixed ones and for the portable ones. For both models, it is also convenient to look for models that have a shelf at the bottom, on which to place other tools and objects while we work.
However, if you are concerned about space, in addition to your fixed bench you can always choose to buy a tool cabinet or something similar to keep your workshop in order.
The 4 best workbenches – Opinions 2022
Buying a workbench is essential to be able to work comfortably and safely. Whether it is a portable model or a fixed model for your workshop or garage, it is very important that you do a little analysis before buying to make the most of your money. That is why we have created for you a small analysis of five of the best workbenches of 2022, with quality products at an adjusted price, where you will surely find the best workbench according to your preferences.
1. Bosch PWB 600 Workbench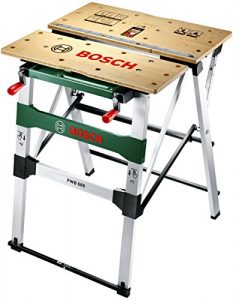 Main advantage:
It has a capacity to support up to 200 kilograms to carry out various DIY or professional jobs, with a large surface for your work. This model is foldable so you can transport it to where you want to carry out your work with greater effort.
Main disadvantage:
This workbench does not have the option to adjust its height, which is considered by many as a disadvantage for professional and DIY work; however, its height is standard, like the rest of the models on the market, so it fits perfectly to most tasks to be carried out.
Verdict: 9.9/10
Due to the stability provided by this model of workbenches, its surface for DIY tasks and also the comfort it provides for DIY or professional tasks, this Bosch PWB 600 model is one of the most recommended on our list of products.
Working capacity
For DIY or professional-style tasks, nothing better than having a workbench that is resistant and practical to use; this is the case of the Bosch PWB 600 that can withstand up to 200 kilograms of weight during the work to be carried out.
It has a work surface 550 millimeters wide for more space and it has a central division to facilitate the work of holding the material.
Folding
One of the main features of this model is that it is foldable, which allows you to move it from place to place without making the greatest effort because despite being robust and quite spacious, it only weighs 11.6 kilograms. You do not require extra tools to be able to fold it.
This feature will allow you to store it without a problem and without needing a lot of space, because it is really flat and only occupies 9 centimeters deep, leaving it with dimensions of 64 by 84 cm.
Utility
This workbench has 4 clamping jaws to fix different pieces and tools easily and safely. It has a fixing depth of 34 millimeters for a width of up to 525 mm, this is adjustable.
The tabletop is adjusted and put into position through a system of cranks that you can adjust independently as you wish and according to the work to be done. Its work area is made of bamboo wood that allows it to withstand the force used and is resistant to water, so that it will not be damaged if exposed to rain.
Design
It has a modern design and is also comfortable for DIY work, since this workbench has a tray as a compartment so you can use it as you wish.
It has a working length of 680 millimeters, a weight bearing capacity of 200 kilograms and a height of 834 mm.
Its structure is made of aluminum and the table has a bamboo wood surface, which makes it really resistant for continuous use, heavy work and gives it the ability to fold.
2. TecTake 400915 Wooden Workbench
If you are looking for a workbench for your workshop, the TecTake 400915 model can be an interesting proposal.
This bench is mainly made of wood, offering a work surface of 117 x 48 centimeters, equipped with different vices and two dams to hold the material while you work. To keep your tools organized, you have both its 60 x 30 centimeter shelf and four bars on which you can hang them. It also has a 40 x 40 drawer where you can continue storing things.
The whole set is made of real solid wood, far from the plywood of other inferior models, which guarantees a strong and durable support over time. If we add an adjusted price to all these functions, we understand why it is the best workbench for quality price on the market, according to consumers.
If you need a bench for your workshop, the TecTake 400915 model offers you a different but quality design. This bench is made of high quality wood, including everything that traditional benches offer such as a drawer, shelf or bench vices. Due to its design and functions, we are facing the best workbench for 100 euros, which you can also customize to your liking.
Pros
Large Drawer – The drawer offers ample capacity to place your tools or whatever you need.
Ample space: This table offers a surface of 117 centimeters long by 45 wide where you can work comfortably.
Easy assembly: thanks to being quality wood, assembly is as simple as any kit furniture.
Cons
Resistance: Although the wood is of high quality, damage can sometimes occur due to knocks or falling tools, so you must be careful when using it.
3. Black & Decker WM301 Bamboo and Steel Workbench
The Black & Decker WM301 model is similar to the Bosch model already mentioned, being a high-quality, low-weight folding workbench that is very comfortable to use.
It has a 61-centimetre-wide jaw and an opening degree of 115 millimetres. Its four jaws are adjusted by two cranks that facilitate a perfect fit of the piece on the table, at a height of about 72 centimeters above the ground. Despite its only six kilos of weight, this workbench offers a resistance of up to 160 kilos, being perfect for all kinds of jobs indoors or outdoors.
Once folded, it occupies very little space, and can even be easily hung in your workshop or garage. And thanks to its high-quality supports you will have no problems when it comes to unfolding and fixing it.
Although there are several that fight for the title, Black & Decker is one of the companies considered the best workbench brand, thanks to the quality and reasonable price of its products. The Black&Decker WM301-XJ model actually stands out among the cheapest benches with an adjusted price for a totally portable bench.
Pros
Great resistance: despite being a portable model, it supports up to 160 kilos of weight.
Clamps: includes four clamps and two cranks with which to hold the materials and make your work easier.
Firm: the rubberized feet guarantee stable work and no risk of slipping.
Folded flat: glued flat allows it to be stored without taking up space.
Cons
Assembly: the assembly has some complexity, although only in the first use since later it is enough to unfold it to be able to use it.
Instructions: according to some users, the instructions could be improved.
4. Vonroc Folding Workbench
This workbench has a high-quality metal structure, which offers great stability to properly support workpieces up to 150 kg. However, it incorporates a folding system, making it practical to store without taking up too much space. In this sense, it is recommended to work inside the home or in the garden.
Another benefit of this model is the bamboo countertop, which can withstand moisture to provide a long lifespan and provides resistance to constant use. In this way, it functions as both a saw frame and a clamping table. In addition, it has marks on the surface to measure more precisely, so it serves as a work table.
Regarding the design, it is worth mentioning that the bench measures 52 cm wide, 77.5 cm high and 63.5 cm long. However, it weighs only 4.8 kg to easily move it from one place to another.
If you are looking for one of the cheapest workbenches today, you may be interested in this product from the Vonroc company. For this reason, we present its main pros and cons.
Pros
Capacity: Thanks to its robust construction, it can support a maximum of 150 kg of weight, so that it is possible to work with large pieces.
Materials: The structure is made of metal for greater stability. For its part, the countertop has been made with bamboo, a natural material that is generally more resistant to moisture than MDF.
Practicality: It is a compact workbench, measuring 52 x 77.5 x 63.5 cm and weighing 4.8 kg. As if that were not enough, it can be easily folded to take up less storage space.
Cons
Domestic: It must be taken into account that it is a product to carry out small jobs at home, since it is not prepared for a demanding use at an industrial level.
Bosch PWB 600 Work table 553 mm
To find out which is the best workbench on the market, according to consumers, you just have to see everything that the Bosch PWB 600 model offers.
A bench whose design is perfect both to take it wherever you need it and to have it in your garage or workshop. This folding workbench offers two 68 x 55 centimeter surfaces made of bamboo, which you can move and move as needed. On them you have up to four clamps to hold any material on which you work.
Thanks to the high-quality steel frame, this bench has a resistance of up to 200 kilos, although the bench itself is relatively light, weighing around 11.5 kilos. To further facilitate its transport, the bench folds easily, taking up minimal space once stored. All this with the guarantee and quality of the Bosch manufacturer, one of the main manufacturers in the market.
If you want to know which is the best workbench of the moment, the answer is brought by the German manufacturer Bosch. The Bosch PWB 600 model offers a strong and robust bamboo wood work surface, mounted on a folding table that you can take wherever you want.
Pros
Portable: Thanks to its scissor design and its reduced weight, you can easily take it wherever you want.
Resistant: bamboo wood guarantees a high resistance to knocks and friction on the table.
Robust: despite its size, the high resistance aluminum guarantees a wide load capacity and resistances.
Clamps: the table includes two high resistance clamps that allow the materials to be fixed on the table when working.
Cons
Surface: the work surface is somewhat smaller than that of the fixed benches, but sufficient for all types of work and on the move.
How to use a workbench
When we have skills for DIY, whether professionally or as a hobby, we will always want to have a space to carry out this type of task more easily and quickly. For this there are the work benches that adjust to almost any type of work that we carry out at home or in a workshop.
know its parts
Workbenches can be very useful, whether you use them at home or in a workshop, as long as you know what you can do on their surface and with the other elements that their design may have.
That is why it is very important that you know all the parts of your workbench. If you work with wood a lot, learn how to set the battens either for cutting or sanding. Also within the applications of these workspaces, accessories are added, such as fixing clamps for when the wood is round and needs to be treated.
If your workbench can expand its space, you should also know which crank to use for it, as well as to fold it, if that were the case.
What jobs can you do at your workbench
In this type of instrument you can carry out work related to DIY that includes carpentry, masonry, electricity and even plumbing. For carpentry you can fix wood and make cuts with greater precision, as well as sand it and even varnish or paint it.
For masonry you can also use the bench to join the bars that will form the columns of the construction or any other type of reinforcement that is necessary to carry out a quality job.
In general, there are almost innumerable jobs that you can do at your workbench: bending and treating metals, screwing or installing electrical parts before fixing them in the house.
Care you must have
The bench you have chosen surely has a high resistance calculated specifically for the type of work for which it has been designed, but it has a limit in terms of the weight it is capable of supporting, so try not to put on it a weight greater than his resistance. In this way, you will be able to work in your bank for a long time.
Also try to keep its surface smooth, preventing the tools you may use from damaging it. Remember that in the workspace you can also make traces, so any surface defect affects the work. Also do not expose the surface to liquid or corrosive substances.
Keep the bench in an area where it won't be exposed to moisture and never leave it outside.
Maintenance
Always keep your work area clean and remove any debris that may have adhered to the bench surface. In the event that any screw that is part of its fastening system loosens, adjust it using the correct tool. If the bench is collapsible, never leave it open or closed for a long time.
The most popular brands
Choosing a workbench that suits your needs is not an easy thing, because in the commercial world there are different options, some that are for use in workshops and others that you can use in small spaces because they are foldable and easy to store, to help you with your choice we have compared brands and user comments highlighting 3 different ones such as: Jago, TecTake and Black and Decker.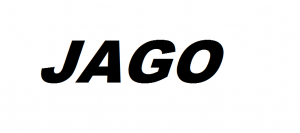 This is a German brand that was founded in 2005 and has a broad base of workers, there are more than 200,000 and they have sales profits that exceed 93 million euros.
This company is dedicated to international electronic commerce since it is established in more than 29 countries and stands out for its extensive sales throughout Europe, with great recognition among those who purchase its products. Its headquarters are in the heart of Germany and it has branches in Eschwege Hückelhoven.
This marketer of products has a wide range of articles, among which we can find fireplaces and their accessories, lawn mowers, outdoor power tools with the entire line of accessories, plumbing, bathroom and kitchen installations, electrical prevention and safety products., building supplies among other really broad categories.
One of the most sought-after products by customers are the work benches, which have characteristics that stand out in the market and that give them great positioning among their buyers, such as their large work surfaces and spacious storage drawers, built with materials highly resistant to the use and weight that you want to use, depending on the model and are easy to install.
This is a company dedicated to the commercialization of various products both in the electrical and household appliances area as well as in solutions for the home and kitchen. She is German and has several years of experience in the global market, as her reach is international.
It offers you a wide catalog of products in which we can highlight more than 22 different categories where you will get what you want, standing out in industrial equipment, for science and DIY. They have great competition with more recognized brands than TecTake, also because of their prices, which tend to be cheaper given the same quality and functions.
One of the products sought after by buyers is the workbench, since TecTake offers various models so that you can choose the one that best suits your needs. Its buyers give a high rating regarding the quality of this item as they ensure that its materials are highly resistant to use, depending on its model you can find different resistance to weight, work areas that are either large or smaller; some have dams to hold items, as well as areas to organize tools to facilitate the task at hand.
It also has an official website where you can buy directly with the allies of this brand and observe in detail each of the products they offer for sale and disposal of their customers.
This brand is the world market leader. It was founded in 1910 beginning with the manufacture of small Balmore machines and expanding throughout the globe years later with a specialization in the manufacture of power tools and household appliances.
It is widely recognized for its international quality standards and is one of the brands with the largest distribution of equipment and service providers.
They currently have a very wide line of products in which you can find everything from tools for vehicle maintenance; power tools, lawn and garden tools, hand power tools, household cleaning tools, filters, batteries, saws, chainsaws, air conditioners, classic and electric screwdrivers, kitchen utensils, blenders, vacuum cleaners, heat guns, among others. range of equipment.
This brand also offers workbenches on the market which are characterized by their high quality in manufacturing materials, diversity of models among which those that are folding and portable stand out, those that have modifiable heights to adjust to the task at hand. perform, they offer you different weight capacities supported by their surfaces, which are large to facilitate work or reduced if your space is smaller.
» Review information from previous years
Estos productos solían encontrarse entre los más recomendados, pero ahora ya no están disponibles
Jago WEBA01
Para concluir presentamos el banco de trabajo para taller Jago WEBA01. Un enorme banco que te ofrece una superficie de mesa de nada menos que 115 x 55 centímetros sobre un tablón de MDF muy resistente.
También cuenta con una zona para colgado de 115 centímetros de ancho por 55 de alto donde poder mantener tus herramientas ordenadas gracias a su panel perforado. Y para que mantengas todo en orden también cuentas con un cajón de diseño profesional con unas medidas de 105 x 40 centímetros de fondo.
En cuanto a tus herramientas, su sitio está justo bajo el cajón, en la bandeja adicional que se encuentra a unos centímetros del suelo, ofreciéndote un amplio espacio de almacenamiento. Gracias a sus remaches y sujeciones profesionales este banco garantiza una amplia resistencia durante mucho tiempo.
Si no sabes qué banco de trabajo comprar para tu taller, el modelo Jago – WEBA01 puede ser tu respuesta. Este banco de trabajo te ofrece un amplio espacio de trabajo, así como una amplia capacidad de almacenamiento para tus herramientas, tanto en la zona de colgado como en la repisa inferior.
Pros
Lleno de espacio: dispone de gran espacio de almacenamiento en la repisa inferior y en el gran cajón.
Zona de colgado: la zona de colgado, que incluye ganchos, permite organizar tus herramientas de forma cómoda.
Amplia zona de trabajo: la zona de trabajo tiene una medida de 110 x 55 centímetros muy amplia para trabajar.
Precio ajustado: este banco de trabajo tiene un precio realmente competitivo que seguramente encaje en tu presupuesto.
Contras
Montaje: el montaje resulta más complejo de lo que las instrucciones indican, por lo que debes tener cuidado.
Materiales: su calidad es adecuada para el usuario doméstico que no quiera gastar mucho, aunque se queda corta para el profesional.
» Revisa la información de años anteriores