Tech
5 Alternatives to Android Voice Recorders
When it comes to recording voice on our mobile we can use the recorder that includes the Android operating system. But sometimes we need something more or just want something different, so having quality alternatives is always a good idea.
One of the advantages of mobile phones is that we can use them for almost everything. These mobiles can serve as photo cameras, video cameras, MP3 players, GPS… and also as voice recorders. A basic function for which the Android system itself has an application included, so that if you want to record voice from your mobile you won't need anything else.
However, it is possible that this recorder could fall short. Partly because it's a pretty basic recorder and doesn't have many of the features you might get from the best conventional or traditional voice recorder you have on hand. Luckily, there are many developers that offer us alternative voice recorders for Android to what has been the standard tool. Let's see what we can expect from them.
#1 Rewind
Rewind is an application that, due to its characteristics, is an interesting tool for recording sound. The application is responsible for recording everything that the mobile hears for a certain time, which we can establish previously. Another option is the one that allows us to "hear" everything but record only what interests us. To do this, the app saves these recordings in the RAM memory of our smartphone, renewing them in case we don't tell it to save them. Anyway, the app has different modes of use, so it probably won't be a problem to find the one that suits us best, according to our specific needs.
#2 Parrot
Parrot is another interesting app to record sound on Android. One of its strong points is that it barely requires three touches on the mobile screen to start recording. A recording that has high sound quality, also showing the pattern of the audio that is being recorded, which serves as a reference to see if the recording process is adequate.
The interface has a nice green design and a remarkable simplicity, as we have mentioned. This does not prevent us from being able to label the recordings we make or from using different effects to cancel the echo and noise of the recording. We can also control the process even from Android Wear devices, without having to touch the mobile. Therefore, it is a really useful app to control the recording process, both in the basics and in the advanced functions.
#3 Record
We continue with another application that has great fame among users. We are talking about Recordr, which maintains the line of simple and efficient applications that we have been commenting on. With this app it is possible to record sound almost on touch, obtaining images of that sound on the screen, in order to see if everything is being recorded as it should. A process in which the recording profiles stand out, with which it is possible to establish already defined configurations in aspects such as audio quality and the space they occupy. So we can create custom profiles or use the included ones, to make everything even easier.
Sound can be recorded in different formats and with different output options, ranging from 8 to 48 hertz sampling. It also includes a gain function, suitable for environments in which the audio we want to record does not have all the necessary strength. Finally, we can manage all the recordings and get the most out of them thanks to some functions that we won't find in the Android voice recorder.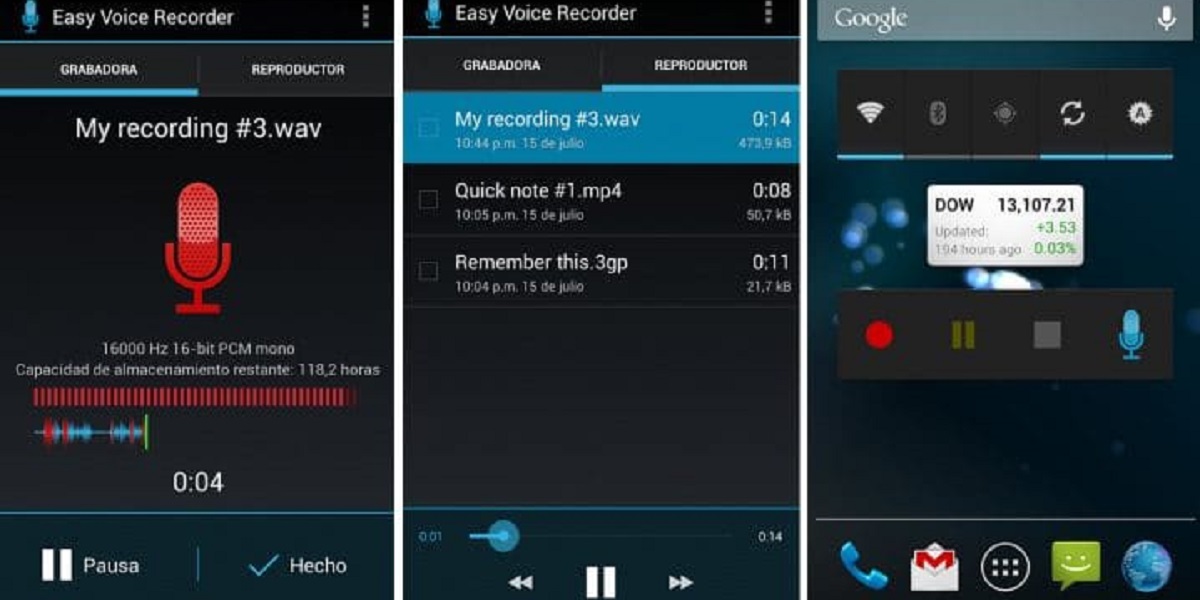 #4 Easy Voice Recorder
This app delivers what it promises. Easy voice recorder is a simple app with which we can record sound without more than pressing the button to start the recording. However, this does not mean giving up advanced options, such as echo cancellation or noise reduction. Options that we access from the magic wand, which also allows us to adjust the output format of the file or modify the sample rate of the audio that we want to record. All of this while maintaining that easy-to-use interface as well as a pleasant design, so that we don't have to complicate our lives too much when it comes to recording audio.
The app follows the dual-screen approach, so that on one side we find the recording area while the second is the listening area. From this area we can also share the recordings or even set them as a ringtone, which is something that not all apps have available.
#5 Sony Recorder
One of the main manufacturers related to the world of sound is Sony. So it is not surprising that the brand has launched its own app to record sound on Android. In this case we are talking about Sony Recorder. Leaving aside the fact that they have not broken their heads much when it comes to finding a name for the app, the truth is that in it we find the same simplicity of the name, so we will not have to complicate the recording process too much.
Specifically, on the main screen we have a button to start recording and a second pause button. We also have the indicators for the two audio channels, left and right, which serve as a reference to see if the sound is registering properly. In this area we also have the audio mode in which it is recorded, whether stereo or mono, and the quality of the recording. We can modify the latter as we see fit. On the other side of the app we have the recording browser, which we can share, cut, apply filters or see the details of those files. All this in a simple and accessible approach to any user.