Tech
How to customize your trash can?
It is no secret to anyone that the garbage can is one of the objects that we try to hide the most in the different areas of the home. In some cases, the sole function that it fulfills as a waste container causes this container to take a backseat among the other objects in the house.
However, litter bins are necessary and when trying to hide them they lose their usefulness, since instead of being close at hand, they end up hidden and difficult to access. For this reason, we have prepared this article where we indicate some ways to improve the appearance of garbage cans, so that they become part of the decoration in the rooms of your home.
Use materials you have at home
Before spending money on materials to decorate your bin, you can review the things you already have and that can be used to artistically intervene the bin. Among the most used elements are sheets of white paper, universal glue, ruler, markers and scissors, but you can use as many things as your creativity allows.
Multicolored garbage can
A very simple idea to decorate a wastebasket for children or adults is to make cylinders with sheets of paper. In this case, you just have to take the sheet from one of its ends and start rolling it diagonally to the other end, taking care that they are very thin. When finished, you can use a common glue stick to fit the tip of the end with the cylinder.
The idea is to paint each cylinder with a different color marker to create a very striking cube. You can make as many cylinders as you like, depending on the size of the cube. Don't worry if the paper rolls are taller than the bin, since you can cut them with scissors once you attach them to it.
Afterwards, you can start gluing the colored cylinders to the bin using universal glue, which works well on bins made of metal or plastic. It is important that you do this part of the process very carefully, so that the result is more professional.
You can also make rolls of paper in a single color, in case the decoration of the room needs it. In addition, you can make the combinations you prefer according to your tastes.
However, this type of decoration is not robust, but rather delicate, which is why it is recommended for a bedroom wastebasket, since in humid places such as bathrooms and kitchens it can be easily damaged.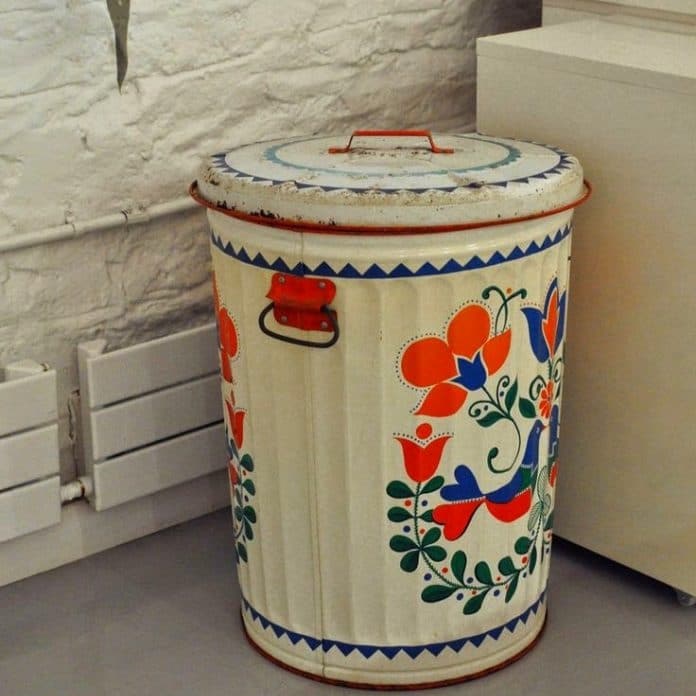 Trash can with decorative stickers
The stickers are well known for decorating walls, but they can also be used on plastic, wooden and stainless steel bins. There are very diverse designs, so you can play with all the rubbish bins in your house to give it a more personal touch, using a surreal, animal print or natural finish.
A few simple colorful butterfly stickers can radically change the look of your bin, but if you have a metal bucket, be it square or cylindrical, then you can create a whole new bin, just by putting some star stickers on it, then painting it of your favorite color with a spray can, let it dry and remove the stickers, revealing the shine of the metal in the form of stars.
Handcrafted Basket Look Trash Bin
If you have a bin made from metal mesh, you may have noticed that they tend to be brittle and lose their shape with small impacts. Thinking about solving this problem, some people have used two simple materials that are in any house, jute or hemp rope and some hot silicone. The result is a handmade basket that does not look like a garbage can.
All you have to do is heat up the hot glue gun and start wrapping the rope around the bin from the bottom to the top, applying hot glue all the way and waiting a few seconds for it to dry before continuing. As additional information, we can say that it is advisable to place enough silicone both at the beginning of the process and at the end, for greater durability. This idea works well for a larger container that would serve as a laundry basket.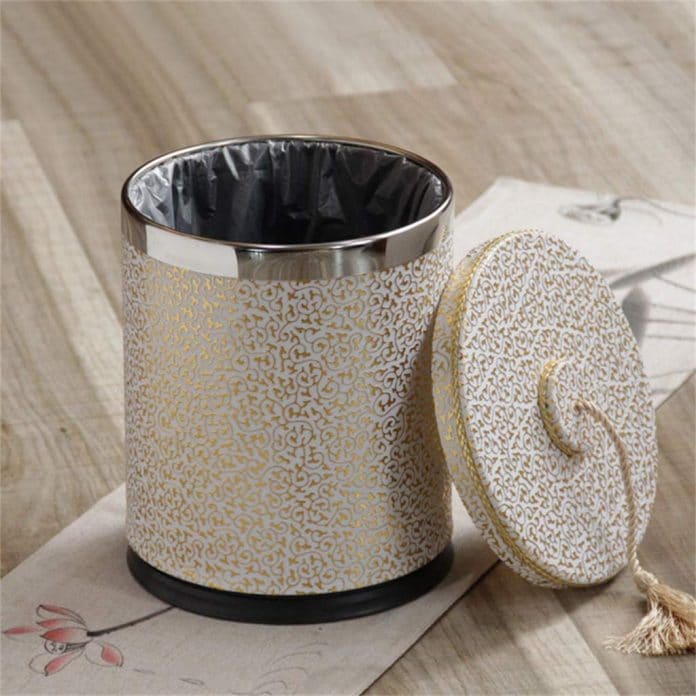 Use the decoupage technique
Decoupage has been in fashion in recent years, since it is a very simple way to transform everyday objects into eye-catching decorative elements, for this reason, it is a technique that you can use to personalize your garbage can, in this way all your guests will agree that you have one of the best trash cans.
It simply consists of using decorated napkins or pieces of cloth to cover the surface of the bin, in this case, you can use the materials you already have at home or buy them for very low prices, because they are not expensive products. Thanks to this, you can choose very diverse designs for each space in your home and you only have to use a little vinyl glue, a ruler and scissors.
Bin with the colors of recycling
You can turn containers that you no longer use into bins to recycle. In this sense, it is possible to use the previous ideas to create rubbish bins with the colors of recycling, in this way you will be contributing twice in the fight against pollution, since you are not only organizing household waste but also reusing an object that you already had abandoned, thus reducing the environmental impact.
Remember that yellow is for plastic waste, blue is used to collect paper and cardboard, red is used for toxic waste, and green is for glass. Having a bin of each color makes the recycling process easier and you will be part of the change.
However, it is not necessary to paint the entire bin, but you can only intervene the lid or in any case place some stickers to identify the type of garbage that you must deposit in it.