Tech
The 5 Best Label Printers of 2022
Label Printer – Buying Guide, Opinions and Analysis
Label printers are very useful devices in our business or workplace, since they allow us to print barcodes, labels or business cards quickly and conveniently. Before choosing a particular model, you must be very clear about some aspects, such as the dimensions of the equipment, since these must be suitable for the spaces and size of the computer, as well as connectivity with it and the rate of printing, which should be sufficient for the volume of work. After reviewing the best-selling models and user ratings on the web, we have chosen two models considered among the best on the market today. The first is the Zebra GK420t, a desktop thermal label printer, capable of offering good print quality and with 8 MB of storage. In second place, we highlight the Brother QL700, with direct thermal technology, capable of printing up to 93 labels per minute.
The 5 Best Label Printers – Opinions 2022
Buying the best label printer is not as easy as it seems, this is a very useful device for shops and companies, but also for home use, so we present a summary of the products with the best reputation among our users in order to help you to make a smart purchase by learning about its features and benefits.
Among the best label printers on the market we can find this efficient model, the GK420t. The reason why it has managed to position itself in such a way is because, first of all, it is very easy to use. Its design is simple and it has different connection configurations, such as bidirectional USB, and RS-232, for an always stable data transfer.
Its printing speed is 127 mm per second and it has been designed for 104 mm paper tapes. Also, you should know that, despite being versatile for any type of business, it complies with the certifications to cover the needs of the medical sector, being very useful for printing wristbands and labels, for example.
Before purchasing this thermal printer, we recommend that you take a look at the summary of highlights that we have prepared. Thus, you can be aware of what it can offer.
Pros
Printing standards: It is compatible with CODABAR, EAN13, EAN8, Industrial ⅖ codes, among others. Being easy to adapt the printer to various sectors.
Internal memory: By including an internal memory of 8 MB, you will have no problem keeping the necessary configuration on the device.
Paper compatibility: It is possible to use rolls with a diameter of 127 mm, which is a fairly common format.
Speed: You can print at 127mm/sec, which can contribute to a smooth business flow.
Cons
Ethernet connection: This type of connectivity is optional in the model. If you require this type of communication, you must make sure to request it.
Continuing with the list of the best label printers of 2022, we must mention the QL700 model of the renowned Brother brand, which stands out for its great speed, capable of printing 93 labels per minute to speed up your tasks while saving you the main asset you have, your time.
Like the previous model, this equipment prints with an excellent resolution of 300 x 600 dpi on a maximum label width of 6.2 cm that you can customize with your logo and images and the text you want.
It also provides automatic tape cutting to make your job even easier. The good thing about these professional printers is that they print with thermal technology so you won't have to worry about buying replacement supplies.
This equipment has a compact, lightweight and functional design, it occupies little space thanks to its dimensions of 20 x 15 x 50 cm and weighs 500 gr.
Pros
Resolution: Its resolution is 300 x 600 dpi, which will give you a very high quality impression, with the sharpness and clarity that you want to find in these teams.
Capacity: Its printing capacity is 93 labels per minute. That is, a little faster than the previous one.
Width: In order for you to determine if it is the right model for your company or your business, you should know that this model prints at a maximum width of 6.2 cm.
Technology: It has thermal technology that will help you save on cartridges and ink. In addition, it has automatic tape cutting.
Cons
Drivers: According to the opinion of one of their clients, this printer is not compatible with Windows 10 and you must download the corresponding drivers.
By knowing the characteristics of the products that we recommend in this list, you will be able to choose which is the best label printer to meet your requirements.
For less demanding uses such as labeling boxes, placing prices on products, labeling school items, among others, the DYMO printer fully fulfills these functions.
It is a portable equipment, with a dynamic design that fits in the palm of your hand, it has an easy-to-use interface, a two-line screen with a capacity of 13 characters that allows you to preview the label to edit it before printing it..
In addition to printing on colored labels, you can adjust the font style, place underlining, bold and change the size of the text using the navigation keys that allow quick access to all functions.
This equipment uses 4 AA batteries, and has the function of automatic shutdown to help save batteries, however you can also use it with the AC connector directly.
Pros
Screen: It has a two-line LCD screen where you can view and edit the label you want to print.
Battery: For its operation it requires 4 AA batteries, which offer good performance and a wide autonomy.
Automatic power off: It incorporates the automatic power off function, which will serve to prolong the useful life of the batteries and thus contribute to their savings.
Design: Its design is really compact and light, so you can easily take it wherever you need it.
Cons
Tape: According to what one of its clients points out, the tape does not last long and its replacements are quite expensive.
4. Dymo 9 Label LCD Label Printer
From the renowned manufacturer DYMO, the S0758380 model stands out for its high performance at the lowest cost, which is why it deserves the title of best price-quality label printer.
It is an efficient labeller and one of the cheapest available on the market, it differs from the previous model in the qwerty keyboard. It uses four AA batteries but can also be used connected to the current, it has a memory to store 9 labels, and a 13-character LCD screen.
With the automatic power off function you can save batteries when you use it wirelessly. It is easy to handle thanks to its ergonomic design, it weighs just 480 g and measures 22.9 cm by 22 cm and its size makes it much easier to write the labels.
With this printer you can modify 5 font sizes plus 8 types of boxes that can be printed on two lines. With the navigation buttons you can quickly and easily access all the device's functions.
Pros
Screen: It has an LCD screen that allows you to clearly see what you are going to print and what you are editing through the keyboard.
Memory: It has a memory that gives you the possibility to save up to 9 labels that you will possibly use frequently.
Battery: It requires four AA batteries, which will give it the necessary power when starting its operation.
Design: It has an ergonomic, light and very practical design, so you can print labels that will give your business a great appearance.
Cons
Batteries: It does not include the batteries that are needed for its operation. You will have to make an additional expense to acquire them.
5. Dymo Omega Ruban 9mm Label Printer
To finalize our list of recommendations, we present one more member of the Dymo family, a classic label maker that uses analog direct thermal printing technology, does not need batteries or electrical connections to work, is totally portable and very easy to use for any member. of the family.
Due to its vintage style, it is ideal for scrapbooking, labeling documents, folders and photographs, as well as children's school belongings or organizing your cupboard of utensils and stationery.
It uses 9mm tape, which is easier to peel from the backing with the tape cutting function that has been improved over previous models.
This color label printer is one of the cheapest because you do not have to spend large sums of money on disposable batteries that pollute the environment and its ergonomic design allows a firm but soft grip thanks to the handle with the exclusive Soft-GripSM technology.
Pros
Printing: For its operation, it incorporates thermal printing that does not require batteries or connections to the electrical current.
Handle: Its handle is very soft and its rubber handle, so you can handle it without complications.
Cut function: It incorporates an improved cut function, which will help you to finish the task in a simpler way and in less time.
Tape: Includes a 9mm tape that will be useful to use the machine from the moment it reaches your hands.
Cons
Durability: Users express that this machine does not provide great durability, because for some of them it has stopped working in a very short time.
Buying Guide – What is the best label printer on the market?
Peripheral devices, without a doubt, facilitate all the office automation tasks that are carried out at home or at work and label printers are one of these important pieces of equipment. In any business, trade or company, it is always necessary to label files, documents, portfolios, compact discs with information, place prices on products, among others, which is easily done with a label printing machine.
These equipments have many advantages, one of the most important is that they do not consume ink or toner cartridges because they use the thermal printing system, using only the paper reels to print. Currently there are a variety of models and brands available.
To help you make the right choice, we present this guide to buying the best label printer, with which you will have the necessary information to purchase a good and affordable printer that suits your needs.
Ability
In the current market you can get a wide variety of models and brands specialized in the commercialization of this type of equipment. When making a slight comparison of label printers, you will notice that the capacity factor is decisive in its characteristics.
For medium-sized businesses and businesses, you need equipment that can print many labels at once. Among the most popular models you will find printers that have the power to make 60 to 90 labels per minute, with a maximum width determined by the equipment that does not exceed 10 cm. For larger dimensions and more capabilities, you should purchase more professional or industrial-type printers. Most of these kits include a pre-cut option to make it easier to remove the label.
software
If your search for printers is determined by knowing how much it costs, we recommend that you check that its operation is as good as its price, because a super cheap printer that is difficult to use, that does not have good quality, is of no use to you. printing or the labels cannot be edited. To avoid this situation, we suggest you check that the chosen model includes software so that you can edit and design your own labels from pre-designed models that it has incorporated.
Also, you should have the option to include logos and images to customize the signs with your company slogan for greater professionalism. The importance of specialized software is subject to the possibility of printing barcodes of your products and that you can include them in your database quickly, easily and intuitively, without the need for prior knowledge and experience, something that is easy to do. for any of the employees located in that department.
connectivity
Nowadays it is important to synchronize your electronic devices with the rest of the equipment. The latest label printers include a Wi-Fi connection so you can wirelessly print your labels from any of your mobile devices. However, you will also find those that only have a USB connection to be installed on the computer, where you will have the specialized software and from there send all the designed labels to print.
On the other hand, there are the homemade models that are more analog and are independent of computers because they use alkaline batteries, for portable use, as well as a current regulator to connect directly to an electrical outlet; that is why they do not have modern connection interfaces. We will talk about these teams in the next section.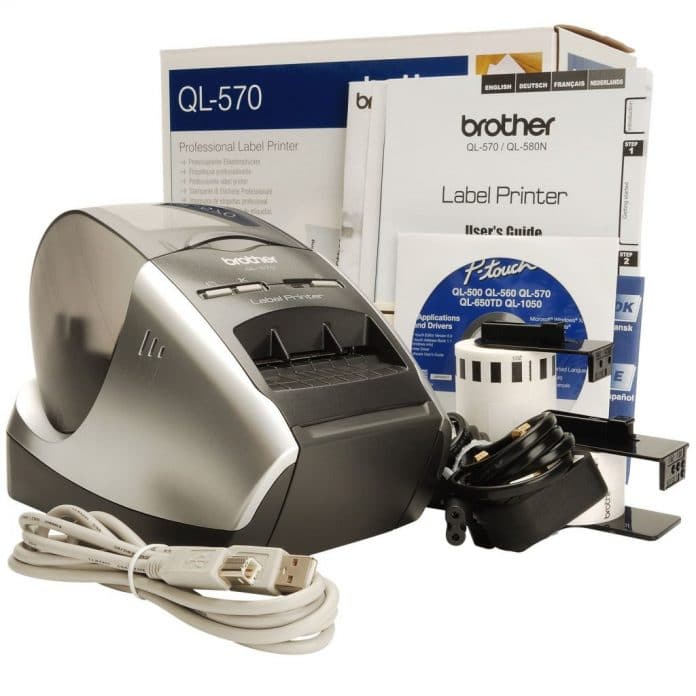 home use
"Home" labelers are very different from printers for commercial, business and industrial use. In addition to being cheap, these devices are small, portable and easy to use. They include a screen with a maximum of characters, where you can enter alphabetic or numerical digits and then extract the label.
These types of labelers have been on the market for a long time and although they have tried to modernize themselves, their operating principle is still very basic. There are models that can be held with one hand and that look like old mobile phones. Others have opted for a larger size innovated with Qwerty keyboards for the ease of users. In short, you must evaluate what type of printers you need before making an investment.
Prices
The cost of your label printer will definitely depend on the type of equipment you need. If it's for use at home, labeling your kids' school supplies, personalizing your scrapbook, and labeling your craft boxes, you'll do well to spend very little money on a traditional label printer.
But if, on the other hand, you need the printer for your office, make CD or DVD labels for your executive presentations, label products with their descriptions, etc., you should invest money in a professional label printer with which you will obtain excellent labeling. resolution, different fonts, include images, logos and more. By knowing these details, you can select which is the best label printer on the market.
How to use a label printer
These devices make it easy for users to print barcodes, labels, cards, among others, quickly, with a high resolution quality and without having to go to an intermediary that provides the printing service.
It is a fairly high investment for small companies or for users looking to reduce production costs. These printers are compact and so that you understand more how to use them and get the most out of them, here we leave you a series of recommendations to take into account.
Open the cover to access the internal module
In order to use the label printer, it is necessary to open the cover that gives you access to the internal part of the device for the placement of the consumables -flexible material that prints on the blank labels-. You must locate the latches that hold the cover tight to the device before you can open it.
Insert the consumable cylinder
In the module where the roll of the consumable goes, the cylinder should only be inserted by pushing from one of its ends to the other, in one of the visible axes. It is necessary to be very careful in two aspects: the first is to be careful not to damage the consumable, since the print quality will not be the same and can damage the product, and the second, to make sure that it hooks correctly.
Empty tube for remains of the consumable
In the other axis you must insert an empty tube so that the consumable material passes over it and leaves the remains of the used material. It is important that the user checks that the notch has been adjusted to the cylinder to prevent it from coming loose during printing.
Fit the consumable paper on the spindles and wait for the signal
Once the consumable is adjusted, the material is stretched so that it is fixed correctly, the cover is closed and the printer is activated. The device is expected to indicate that it has been successfully calibrated.
Label Cylinder Placement
For the placement of blank labels, you must place the cylinder on the adjustable axes, according to the measurements that best suit your needs. The printer has some guides that will ensure that the route of the labels does not deviate from its course.
Fixed label cylinder
Once the labels have been adjusted, proceed to fix the end of the cylinder paper on the roller that pushes the material. Close the lid of the equipment and wait for the printer to automatically calibrate the label paper through its sensors and you can start printing. Many label printers have an automatic cutter that will make label handling much easier.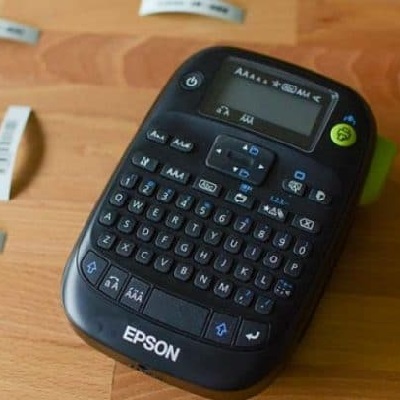 Connecting the device to the computer
To connect the printer to your computer, you only have to connect the power cable from the device to the outlet and then the USB cable that goes from the computer to the computer where the driver and the program that normally come with it must already be installed. these devices for editing and assembling label designs.
Test page to check installation
Now you can check if the installation has been successful. For this, you must go to the "Control Panel", in "Printer Properties", and select the option "Print test page"; Once you have verified that everything is fine, the label printer is ready to work.
The most popular brands
For people who plan to have their own store or business, it is very important to have a label printer at hand that allows you to identify your products and put their respective prices on them. So that you know a little more about the best brands that offer this type of product, we will show you the following text below.

Dymo is a company from the United States, being founded in June 1958 by Rudolph Hurwich. The company specializes in the manufacture and distribution of label printers and thermal transfer printing ribbons, as well as other accessories such as label, CD and DVD markers, among others.
The company began by manufacturing tools using embossing tapes, which led to the manufacture of a series of label printers based on the technologies of the day.
In 2005, the company was acquired by Newell Brands, further expanding the range of products that they offer to date, such as office products, packaging machines, portable labelers, including connectivity to and from the computer, among others., being directed towards new technologies.
From this point of view, the company plans to expand into other areas of consumption, where there is the possibility of doing work more easily, using advanced communication technologies and other forms of information sharing.
The Brother Industries organization is a company founded in Japan in 1908, which is dedicated to the manufacture and marketing of various types of products, such as simple and multifunctional printers, label printers, sewing machines, photocopiers, fax machines, among other products related to printing and the computer.
For the year 1954, the organization establishes its first subsidiary abroad and one of the most important, the company Brother International Corporation, having its headquarters in Bridgewater, NJ, United States, this headquarters being a company that manufactures and distributes its own products, both for use by the general public and for other companies through agreements.
The Brother Industries organization has a global workforce of 36,293 employees, including permanent and contract staff, of which 1,200 are from Brother International Corporation.
The Brother brand is one of the most recognized worldwide, as it has been awarded several prizes and awards throughout its history, thanks to the quality and reliability of its products, which is committed to continuing to improve and evolve as Let the years go by.

Leitz is a German corporation founded in 1896 by the visionary Louis Leitz, who had the idea of ​​organizing the large amount of papers he had in his office, which led to the creation of the Lever Arch filing folder, which is used today in day in virtually every office in the world.
In 1998, the company became the property of the Swedish company Esselte, changing the name of the company to Esselte Leitz GmbH & Co KG, which allowed it to extend its product line to other borders.
With this acquisition, Esselte Leitz is heading to manufacture products that go from the traditional to the technological, meeting the different demands of office products and even developing in the field of mobile phones and tablets, with the style that only Leitz can provide.
Today, the Leitz company is committed to evolving and expanding further to extend its products to new markets, with the quality and responsibility that characterizes them, as one of the best positioned companies in the label printer market worldwide..
» Review information from previous years
Brother QL570 Impresora de etiquetas
Ventaja principal:
Esta impresora es perfecta para aquellos usuarios que necesitan una alta velocidad de impresión, ya que es capaz de elaborar hasta 68 etiquetas por minuto, con una alta producción y un notable rendimiento.
Desventaja principal:
Aunque el software incluido resulta práctico, algunos usuarios comentan que el mismo puede resultar algo lento a la hora de funcionar, precisando además de cierto aprendizaje para explotar su rendimiento.
Veredicto: 9.8/10
Está impresora tiene una alta capacidad de producción e incluye una aplicación que hace más fácil diseñar tus etiquetas.
Caracteristícas Principales Explicadas
Capacidad de salida
Pensada para los usuarios con mayor demanda de impresión, este producto cuenta con una capacidad de salida de hasta 68 etiquetas por minuto, de modo que no tengas que preocuparte por si el equipo no es capaz de seguir tu ritmo. Esta capacidad de salida se obtiene incluso con etiquetas de gran tamaño, en concreto de 62 milímetros, de modo que en función de estas medidas es posible ajustar el rendimiento.
Para que estas etiquetas además sean sencillas de utilizar, el producto incorpora un sistema de corte automático, de modo que las etiquetas quedan ajustadas al tamaño que decidas sin tener que cortarlas, haciendo las mismas mucho más fáciles de utilizar. Unas etiquetas que puedes imprimir usando etiquetas precortadas, cintas adhesivas de papel o plástico así como cintas no adhesivas. Tú decides lo que necesitas.
Calidad de impresión
Dado que Brother es uno de los fabricantes tradicionales de estos productos, no resulta extraña la calidad que es capaz de ofrecer. En concreto, el producto llega a los 300 x 600 puntos por pulgada, en los que además puedes imprimir tanto logotipos como imágenes, sin olvidarnos de los códigos de barras. Unos códigos que gracias a la calidad de su impresión se leen de forma sencilla.
Para que puedas alcanzar está calidad de impresión el producto se acompaña de un diseñador de imágenes, compatible con casi cualquier sistema operativo. Este diseñador te permite tomar el control de tus etiquetas, de modo que no tendrás que preocuparte por los formatos, el encaje de las etiquetas y los demás elementos propios del proceso de diseño.
Conectividad y dimensiones
Para que puedas usar este modelo sin preocupaciones, el producto dispone de conectividad USB, que te permite conectarlo directamente a cualquier equipo. Una impresora que además no precisa instalación más allá de la instalación del diseñador de etiquetas, para optimizar los resultados del producto. Esto reduce las molestias y el tiempo dedicado a la instalación para que solo te preocupes de lo importante.
En cuanto a las dimensiones del equipo, es un modelo compacto que apenas ocupa espacio en tu mesa de trabajo. En concreto, las medidas del producto son de 13,3 centímetros de ancho por 24 centímetros de fondo y unos 14,3 centímetros de altura, que además hacen más fácil acceder a las etiquetas por su diseño de salida superior. En cuanto al peso del producto este es de solo 1,2 kilos así que también es fácil transportarlo en caso de que sea necesario.
» Revisa la información de años anteriores