Tech
The 8 Best Pendrives of 2022
Pendrive – Opinions, Analysis and Comparison
If a few years ago we were told that we could carry the backup copies of our data on a keychain, we would have laughed. But the truth is that the modern flash drives that we have on the market have enough capacity and speed to cover our need to make backup copies or move all kinds of files. So now the difficult thing is to decide which is the best flash drive that we can find, depending on the size or style of the product. If you are looking for the cheapest flash drives, the Toshiba Hayabusa model offers you a capacity of 64 GB in a conventional and quality design, so you will not have problems when moving your data. If you prefer a keychain model, the Kingston DTSE9G2 metal pendriveIt has an aluminum body, storing up to 32 GB and with USB 3.0 connectivity.
The 8 Best Pendrives – Opinions 2022
Although it seems easy, deciding which is the best flash drive according to your needs is not so simple. And not for lack of options, but precisely because of the large number of proposals in terms of sizes, storage capacity or product designs. Luckily, just by taking a look at our list of the best pen drives of 2022 it will be easier for you to get an idea of ​​what the market offers you and, surely, make a decision about it. Let's meet the "chosen ones" below.
64 GB flash drive
1. Toshiba Hayabusa 64GB USB 2.0 Flash Drive
If you have already seen different flash drives, you may think that traditional models have disappeared. If this is your case, you will be happy to know that products such as the Toshiba Hayabusa flash drive survive today, which offers us the traditional design of always, although somewhat more compact. This traditionally designed 64GB pen drive is all you need to securely store your data, perform backups and more.
A model that is also compatible with password lock, so that your data is safe in case someone tries to access it. And if you're worried about power consumption, thanks to its multiple NAND layers and dedicated controller, this 64 GB pendrive is one of the least power consuming, which is quite handy on laptops or battery-powered devices.
Below we analyze in detail this old school flash drive, designed for those who do not want to complicate themselves when saving their data.
Pros
Capacity: The model has a capacity of 64 GB in which it is possible to store a large number of files in a compact size.
Security: If you wish, it is possible to protect the content of the flash drive with a password, to prevent unauthorized access to it.
Low consumption: This model has a very low power consumption, so it is highly recommended for use in laptops and other battery-powered equipment.
Tested model: Despite being among the cheap flash drives in our selection, it is a model with a long history and notable recognition among users.
Cons
Strap : Although it does have a small hole in which to place a strap to hang it, it is not included with the product.
Speed : According to some users, this product is not one of the fastest on the market when it comes to moving files.
32 GB flash drive
2. Kingston USB 3.0 Flash Drive 32GB
As we have already mentioned, modern pen drives have increasingly tighter sizes. So much so that you carry a 32 GB flash drive along with your keys and always have it at hand. This is exactly what the Kingston DTSE9G2 model allows you to do. This flash drive has been made of high-quality metal with a beautiful chrome finish, with a wide connection area that prevents you from losing it easily.
And so you don't have to wait either, we're talking about a 32 GB flash drive with USB 3.0 connectivity, so you'll be able to significantly speed up the speed at which your data is transferred to those computers that use this standard. All of this on a device that is compatible with both different versions of Windows and computers that work with Mac systems.
If you still don't know which flash drive to buy and you want a model that you can take anywhere with your keys, discover some more details about this device.
Pros
3.0 connectivity: This model has been updated with a new USB port, which is already compatible with fast 3.0 technology.
Metal construction: The metal construction is much more resistant than traditional plastic models.
Keychain format: The keychain format, with a large ring, makes it easy to carry the product with you and always have it at hand.
Cons
Connector finish: Some users comment that the connector finish may not be as fine as it should be, although this rarely happens.
Cover : The product does not include a cover for the connector, so you must be careful with the dust that can penetrate inside.
128 GB flash drive
3. SanDisk Ultra Fit 128GB
Expanding on Sandisk's idea of ​​compact design and large capacity, the SanDisk Ultra Fit model is an interesting product with which to have a compact design and 128 GB capacity, with which to provide additional space to any device without problems. A model so compact that once installed it is barely visible, so it is perfectly concealed.
Despite its small size, this 128 GB pen drive is compatible with modern USB 3.0 technology, so it saves you time when moving all kinds of files between devices, with speeds of up to approximately 150 Mbps. A product that is finished off with the additional security offered by the Sandisk Secure Access software, with which to prevent unauthorized access to your data so that no one accesses them without permission.
Considered by many users as the best flash drive of the moment, let's see some more details of what this model offers.
Pros
Low profile: The low profile design allows you to use it on all types of devices without being obtrusive due to its dimensions.
USB 3.0 port: The USB 3.0 port offers you transfer speeds of up to 150 Mbps, to speed up the process of copying files to the maximum.
Data security: This model includes the Sandisk Secure Access software, which gives you maximum security when it comes to preventing unauthorized access to your data.
Storage: This 128 GB pen drive gives you more than enough space to store everything you want, including backup copies of your data.
Cons
Heating: According to some user comments, the product has a tendency to heat up more than it should, although it is not something bothersome or dangerous either.
Keychain mode: Although the flash drive has a small washer to use it in keychain mode, it is so small that it can end up breaking easily.
1TB flash drive
4. Kingston Datatraveler Ultimate GT 1TB
The 1 TB flash drive is one of the latest to hit the market. Something that helps us understand why we are not talking about cheap pen drives. And that the Kingston Datatraveler Ultimate GT model, with 1 TB of capacity, is an innovative product that allows us to carry this large amount of data in a device with this reduced size. A model that, how could it be otherwise, has USB 3.0 connectivity, so that the process of moving large amounts of data is as fast as possible.
A product with a really compact size, similar to that of any other flash drive on the market, which is finished off with class details such as a highly resistant metal casing or the usual quality of Kingston models, which is an extra peace of mind when it comes to to save data.
If you need the greatest capacity to save data, this Kingston model is one of the latest developments in that regard.
Pros
Capacity: It is one of the few models on the market that offers you the possibility of storing up to 1 terabyte of data.
Size : The device has the same measurements as a conventional flash drive, giving you the same convenience when moving data.
Casing : The metal casing gives the product extra strength.
Cons
Real space: As usual, this model loses around 7% of its capacity due to the design of the product itself.
Price : The price of the product is still very high, although it should tend to drop over time.
personalized pen drive
5. Flashitall ECO Pen Drive 8GB
Disponer de un pendrive personalizado hoy día es mucho más barato y sencillo de lo que ha venido siendo hasta ahora. Y es que gracias a productos como el pendrive Flashitall ECO no tendrás que gastar mucho ni complicarte para tener un pendrive. Un producto que cuenta con una preciosa carcasa en madera que puede grabarse con la opción que más te guste, siendo un magnífico regalo de empresa.
En su interior encontramos un pendrive de 8 GB de capacidad fabricado por Samsung, así que no tendrás que preocuparte ni por su durabilidad ni por su resistencia. Y para completar su bonita presentación, este modelo se acompaña de una caja de madera grabada a juego, que completa la elegancia y la personalización del producto. Y es que en la caja encontrarás grabado el mismo motivo que elijas para el grabado del propio pendrive.
For you to have a personalized product as you like, you just have to take a look at this interesting model.
Pros
Versatile : This device allows versatile and highly customizable engraving.
Product : The flash drive is manufactured by Samsung, to give you an extra quality.
Box : The product is accompanied by a wooden box with the same customization as the flash drive.
Cons
Capacity : The capacity of the flash drive is only 8 GB, which may not be enough for certain users.
Pendrive size: For obvious reasons, the pendrive is somewhat bulkier than a current device.
original flash drives
6. SanDisk Ultra USB 3.0 256GB
If you're one of those who always runs out of space on your flash drive or you want to expand the capacity of your Smart TV without resorting to an external hard drive, the SanDisk Ultra flash drive is surely what you need. And it is that this 256 GB flash drive is one of the largest that we have analyzed, also having modern 3.0 connectivity that allows you to speed up data transfer by up to 10 times compared to models based on 2.0 connectivity.
A practical combination so that managing your data is more efficient and requires less time. However, all this is barely noticeable on the outside of the product, located between the original pen drives that we have analyzed.
A model that measures 5.6 centimeters long by 2.2 wide and 1.1 high. So taking that large amount of data with you anywhere will be more than easy. And as if that were not enough, this model is among the cheap flash drives in its storage range.
Designed for those who need a large capacity, let's see some more details about everything that this great flash drive offers us.
Pros
Capacity: Its 256 GB place it in the highest part in terms of storage capacity.
USB 3.0 connectivity: So that you don't wait any longer than necessary, this product has modern 3.0 connectivity that speeds up file transfers to the maximum.
Compact size: Despite its large capacity, the model does not vary in dimensions or weight compared to other similar models.
Cons
Pop- up connector: The connector is folded inside the casing, which can be somewhat annoying for some users.
Real speed: As always, the real speed of the product depends on having USB 3.0 ports in which to connect the pendrive.
16 GB flash drive
7. SanDisk Cruzer Fit 16GB USB Flash Drive
When buying a flash drive, it is not always necessary to spend more money than necessary, thanks to the cheap models that we have at our disposal, especially when looking for a 16 GB flash drive. The proof is found in the SanDisk SDCZ33-016G-B35 pendrive, which due to its characteristics could well be the best value for money pendrive that we have analyzed.
A very complete product that offers you a capacity of 16 GB and a very compact design, so that it can be used to carry those small documents that you always need to have on hand, or to place it on your television, your computer or wherever you want. A model that has all the usual quality in models from this manufacturer, so you won't have to worry about data loss due to device failures either.
Manufactured by what many users consider to be the best pen drive brand, let's see some more details of one of its most compact products.
Pros
Compatibility: If you have older devices or Apple computers, this is not a problem, since this product is compatible with almost any version of Windows or Mac.
Low-profile design: This model has a low-profile design that makes it really easy to hide it on a TV, computer or any other device without risk.
Compatibility : The product offers you high compatibility, so you can connect it to almost any device that has a USB port.
Portable : The flash drive is so small that you can take it anywhere, although you should be careful not to forget that you have it with you.
Cons
Capacity: Since we are talking about a 16 GB flash drive, its capacity is limited, although the manufacturer offers models that go up to 64 GB, if you wish.
Speed: The device works with the old USB 2.0 system, so it is not as fast as the models with 3.0 technology.
flash drive for mobile
8. Sandisk Ultra Dual m3.0 32GB
The mobile flash drive is a relatively modern device that makes it easier for us to make backup copies or move files between our smartphone and a PC or laptop. Something that's easy to do with Sandisk Ultra Dual memory. This incorporates a port, with conventional USB connection and micro USB, which makes it easy to connect the device to any terminal or PC without the need for cables.
Once connected, you will have 32 GB of space inside to store what you need, moving the data, moreover, at high speed thanks to its 3.0 connectivity. Therefore, the copy processes are carried out with speed and agility.
A model that has other quality details such as its retractable system, which keeps the connectors protected. And to make everything easier, it comes with an app that makes the file copying process even easier.
Let's see some more details of this dual model, very suitable for making copies of your mobile device.
Pros
Dual connector: This connector allows you to dispense with cables when moving data, giving you considerable extra comfort.
Compact : The product is light, compact and you can carry it hanging if you wish, for which the hanger is also included.
App : The included app makes the backup process of all your files very easy.
Cons
OTG : It is necessary that the mobile terminal includes OTG technology to work correctly.
Displacement : Being retractable connectors, it is possible that it slips if it is not properly connected.
Shopping guide
The pen drive is still the easiest solution when it comes to moving data between devices. It is an economical product, it is fast if you bet on a model with USB 3.0 and it is also very easy to get to because it is light and compact. And if that were not enough, just by taking a look at any flash drive comparison, you will see that there are a wide variety of models in terms of design, capacity and connectivity. Models that you can easily choose with the advice that we give you in our guide to buying the best flash drive according to your needs.
Storage capacity
The first aspect that we must determine is how much space we need. Something that will depend on the use that we are going to give the product. And it is that a flash drive that we are going to use to carry documents for daily use is not the same as one for backup copies or to load multimedia content. And if we add to this that capacity is one of the factors that most influences how much a flash drive costs, we already have an additional reason to think about it.
Currently, the minimum size of a flash drive is 8 GB. It is true that there are cheaper models but they are generally linked to advertising gifts and that they are not as good as they should be for continuous use. In addition, the savings are minimal, so it is worth moving to this measure. These pen drives, together with the 16 GB, are adequate to take those small files to where they are needed and use them frequently. If they fall short, we can resort to 32 or even 64 GB.
The next step would be the 128 GB pen drives, which, like the 64 GB ones, are already suitable for making massive backup copies or taking multimedia content wherever it is needed. And if you still want more, you can go up to 256 GB of storage still at reasonable prices. And it is that, although there are flash drives that reach 2 TB of capacity, from 512 GB of capacity prices skyrocket.
pen drive design
We have already decided on the capacity and now it is time to see the format of the flash drive. Something that currently goes much further than the traditional format that we remember. Partly due to the miniaturization of interior storage elements and also due to the birth of new models for more specific uses.
In any case, if you are looking for the traditional flash drive with a plug, you will find it. And if you prefer a model with a sliding USB connector, you will also find it. A world in which a large number of colors and designs coexist, some of which are even customizable without having to spend too much.
A system in which it is not necessary to spend hundreds of euros on large print runs, if you do not need it. And all this without forgetting the most original flash drives, in the form of comic characters, movies and other designs full of art.
Entering the world of the most exotic models, we find the ultra-flat pen drives. These have the advantage of being suitable for connecting to a mini system, a car radio or a Smart TV without protruding. Also useful are the dual connector models, which have a conventional USB connector and a micro USB connector. Something that makes it easy to move data between your mobile and your PC.
And if you work with different computers on Mac and Windows, you also have dual pen drives with USB C and conventional ports for connection. These are some of the many options we have to make better use of the flash drive.
Transfer speed
The transfer speed is another of the important points in which pen drives have changed. However, here the decision is going to be much simpler than what you have made so far.
And the reality is that, as expected, pen drives with 2.0 connectivity are being replaced by those with 3.0 connectivity. It is not something strange since these pendrives are capable of reaching speeds 10 times higher than that old standard. All this without a notable increase in price, thanks to how quickly this technology is becoming popular.
And although it is true that computer equipment is not going to keep up with the updating rate of pen drives, it is something that you can always solve with a USB 3.0 port card, which gives you that extra speed. By the way, since we are talking about speed, the next step will be USB 3.0 Generation 2, which promises to double the already high speed of current 3.0 devices. Although it is something that we will probably take yet to see.
Additional issues
At this point, it is possible that you already know which flash drive to buy. Or at least a few candidates to equip you. To finalize your decision, we are going to analyze some additional questions that will help you choose a specific model or at least clarify your ideas about it.
Among them, we have the security utilities included in the product. Here the password protection stands out, which prevents those who should not from accessing your content. Use it when you have to handle sensitive data that you have to move out of your office. And if your product doesn't include it, you can always use the Windows BitLocker utility.
Another interesting aspect is having an app that helps you manage the device, make backup copies or recover files from a damaged flash drive. They are options that many manufacturers offer for this type of device, being an added value when deciding on a specific design.
And it is that this software can get you out of trouble in more than one compromised situation. Although this obviously does not replace adequate discipline when it comes to taking care of the devices or making backup copies of the data they store.
Frequently asked questions
Q1: What is the pendrive with the highest capacity?
The largest flash drive currently on sale is a Kingston model, presented at CES 2017 and which has a capacity of 2 TB of storage. Its current price is around 1,400 euros. If you find it expensive, there is a 1 TB version for "only" 800 euros. And in parallel, the manufacturer VastStick is working on a 4 TB flash drive, although for now it is still in the development phase.
Q2: Which flash drive is better, Kingston or Sandisk?
The answer is complicated, since we are talking about two of the main manufacturers in the flash drive market. Both offer a large number of products with all kinds of capabilities and designs and have remarkable quality and durability in their devices. So unless you have a personal preference, in our case it is almost impossible to bet on one of the two.
Q3: How to make a bootable flash drive?
Unlike previous versions of Windows, since version 7 the option to create a "boot disk" disappeared, as such, which we could use with a pen drive. Currently, you need to use Windows specific programs to do this. However, it is possible and more advisable to do it with one of the specific programs designed for this purpose, such as Rufus or Yumi.
Programs that create these boot disks and even allow us to install Windows or another operating system as long as we have the ISO file corresponding to that operating system.
Q4: How to use a flash drive as RAM memory?
As of Windows 7, a function called Ready Boost is included that allows you to use any pen drive or storage device as RAM memory. This function is activated directly from the menu that appears when connecting the pendrive or by selecting the pendrive with the right button in Windows Explorer and choosing this option. Once chosen, we must indicate how much space we want to use on the flash drive to speed up the PC and the rest of the service parameters.
Q5: How to format a flash drive?
The process of formatting a flash drive is identical to that of any storage unit that we have. To do it in Windows, it will be necessary to access the Windows explorer, once we have connected the pendrive, select it with the right button and choose the format option. To format a pen drive on Mac, it will be necessary to access Disk Utility from the applications menu, select the corresponding drive and press the button to format it.
Q6: How to repair a flash drive?
The only repair that we can carry out on a flash drive is at a logical level, that is, its content. In the event that a flash drive is not capable of indicating the data it has inside, we must use a disk or USB device recovery application to try to save its content. If this were not possible, the only thing left for us would be to format it to, at least, be able to continue using it.
Although before taking this step we should exhaust the means to try to save its content, if it is in our interest, of course.
Q7: Why is my pendrive not recognized by any PC?
When a flash drive is not recognized by our PC, it is always recommended to change its connection port (better rear than front) or try it on another computer. But if you have already completed these steps and the flash drive is still not recognized, the flash drive has probably been damaged.
As a last minute solution, you can try to clean the connector of the flash drive, in case the dust prevents it from working. But most likely you will have to replace it.
Q8: Why does my flash drive have less capacity?
This theoretical difference is due to the different type of drive used by the operating system and the memory manufacturer. Specifically, if a unit has 4 GB of space, according to the manufacturer, you will have 4,000 MB inside, but not the 4,096 that would be expected if we use the 1,024 MB GB that the operating system has as a reference.
Additionally, not all the space is useful space as such, but part of it is reserved to replace the sectors of the pendrive that deteriorate with use, as well as to store its firmware and drivers.
Q9: Which is better, flash drive 3.0 or 3.1?
In truth, there are no differences between the two systems, since the USB 3.1 version is nothing more than the new name that has been given to USB 3.0 after the latest revisions that were carried out in the standard. Only in the event that this connectivity is of the second generation, called Gen 2, would there be a notable change such as doubling the theoretical transfer speed to 10 Gbps. However, this new generation will take time to reach the market, at least at reasonable prices.
Q10: Which is better, pen drive or external drive?
It all depends on the amount of data to be transported and how much weight we want to carry. In case we are talking about little data, up to about 256 GB, the pendrive is capable of hosting it without problem and at a reasonable price. But if we need more space or our budget is tight, it will be time to move on to the external hard drive. Something that has the inconvenience of having to carry more weight than if we only carried the flash drive, as expected.
Q11: Why does the flash drive get hot?
As a device that moves data and has electrical current, it is relatively normal for the flash drive to heat up. In any case, due to the time of intensities that it uses, it is normal for the flash drive to hardly heat up.
In the event that a flash drive overheats, it may be due to a technical problem with it, which causes a greater generation of heat than expected. Something that should serve as a warning to save the data we have and discard the device, since its useful life will surely be short.
How to use a flash drive
The process of using a flash drive is almost as easy as the mechanism of a pacifier. Simply connect the product to a USB port on your computer and start using it right away. However, this does not mean that we cannot do more with the device, for example when it comes to protecting our data or getting more out of it. And these other things are just what we are going to reveal to you next.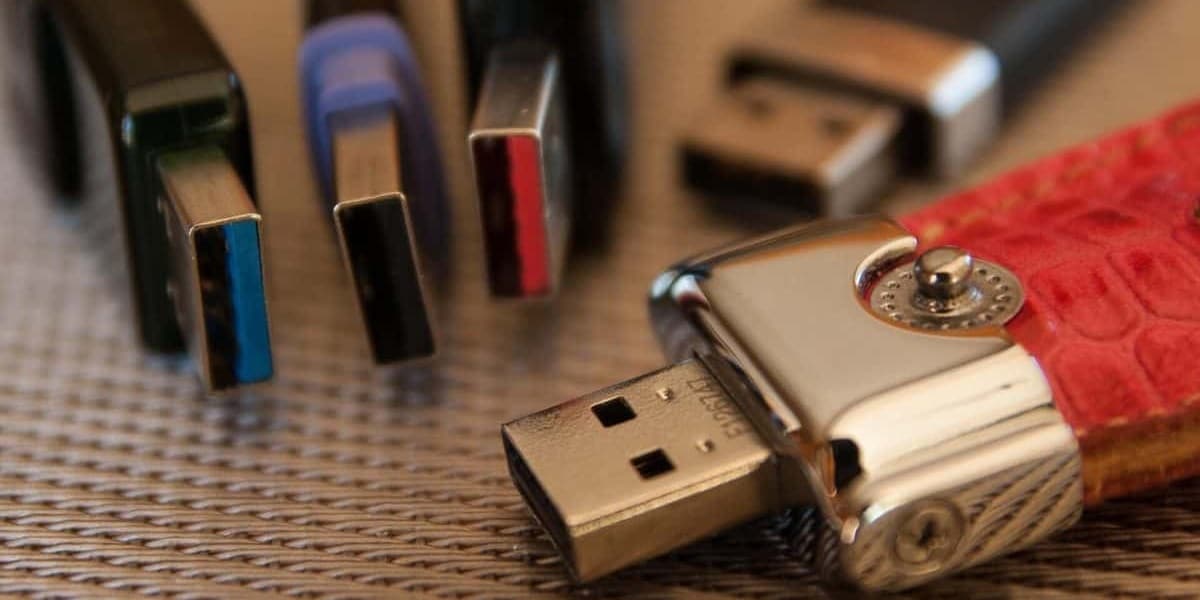 Data Protection
Given the size of a current flash drive, it is not difficult for us to lose it. Just as it is not uncommon for us to leave it "punctured" on a computer and forget to pick it up. That is why it is important to protect the data that the device stores, so that it does not fall into the wrong hands.
A process for which we can count on the applications designed for this purpose by the manufacturers themselves, which allow us to prevent such access through passwords and highly efficient encryption systems. If our manufacturer does not offer us this option, we can always protect the flash drive with the BitLocker tool, included with Windows.
Write protection
Another problem that pen drives have is that they are units that do not have, by themselves, a physical element that prevents us from writing on them